The traditional camping season might be winding down, but many of us will no doubt still be hitting the trails, pitching tents, and sitting around campfires well into the fall months. When I was a kid, camping meant buying and eating way too much candy while reading comic books. Now it means enjoying a great beer around the campfire (I can neither confirm nor deny whether it still involves candy and comic books). Any beer can be a camping beer, of course, but here are some suggestions for cooling down after a hike or warming up around the firepit.
Cooling Down
Hiking or camping in the dog days of summer can be a sweaty endeavor, and a lighter beer can be the perfect refreshing treat when you're taking a break from activity.
Nocterra Brewing's Trail Break Lager is a classic Munich helles with a twist—it's hopped with Saphir for a pop of citrus on the finish. This 5.2% ABV lager from Ohio was inspired by one of the best-known hiking trails in the country.
"The can label is a very specific color of blue modeled after the blue blazes on the Appalachian Trail," explains Nocterra marketing manager James Knott. "Most of the blazes are white if you're doing a through-hike, but the blue blazes represent side hikes, which are often good places to take breaks. When I think of Trail Break, I think of the end of that long hike. You set up camp, sit around the campfire with your fellow hikers, and talk about your day and life in general."
Our wild spaces are nothing without pollinators, and the best-selling Honey Kolsch from Rogue Ales in Oregon celebrates our buzzing companions with a kiss of wildflower honey in a crisp and gentle 5% ABV package. Sipping this beer outdoors reminds us that we share this earth with every living thing. Those flowers beside the trail are there because of pollinators!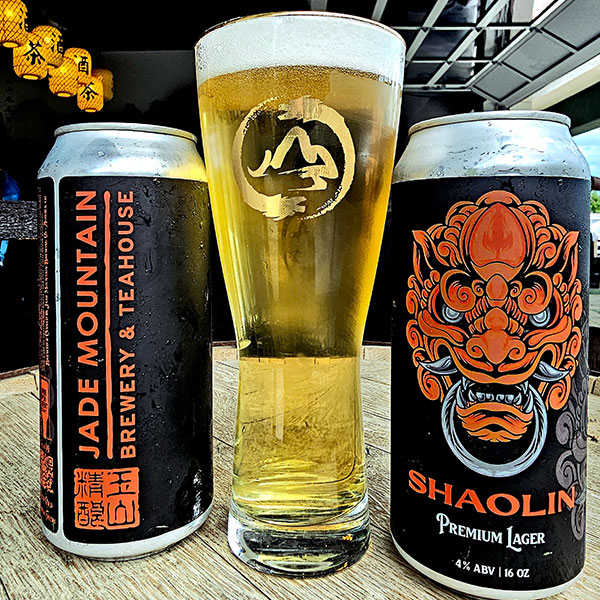 Jade Mountain's Shaolin Light Lager is brewed within sight of Colorado's Rocky Mountains, and its name is a reference to a unique climb taken by the founders. The brewery started out as a tea shop in southern China before moving to Colorado and launching the brewing operation, and still incorporates many Asian ingredients such as tea, Buddha's hand, and squid ink. It's this super light 4% ABV beer that has the brewers' hearts, though.
"We did a lot of unintentional hiking in China," says co-founder Sean Guerrero. "The Shaolin Temple is right on top of the mountain. The only way to get up there was on foot. Shaolin is our brewer's beer."
Warming Up
There's something about a campfire that pushes a comfort button deep in the human brain. When combined with a perfectly toasted s'more, a fire is as cozy as it gets. But what if you want your s'more in liquid form?
High Water's Campfire Stout from California is a 6.5% ABV stout brewed with graham crackers, molasses, vanilla, and toasted marshmallow. The beer won gold medals at the Great American Beer Festival in 2014 and 2016 and isn't so strong that you can't enjoy it on the warm summer nights outdoors.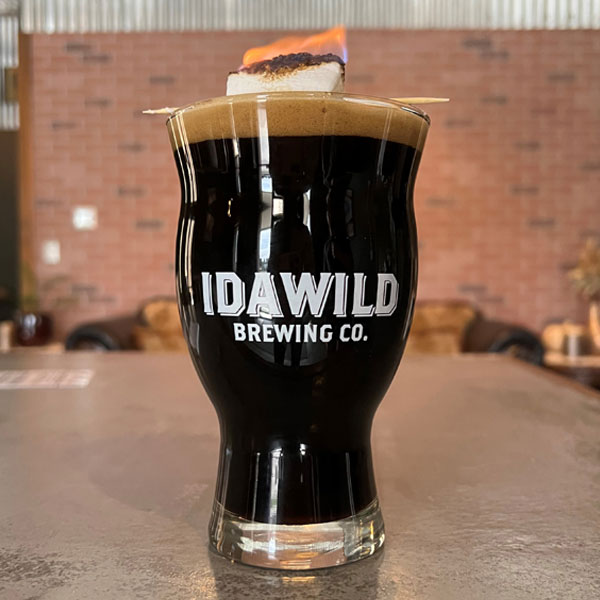 Idawild Brewing in Idaho takes a similar approach for its 5.3% ABV Fireside S'mores Stout. Brewed with lactose, Tahitian vanilla, chocolate wheat, chocolate malt, and cinnamon graham crackers, Fireside was dreamed up on a camping trip to nearby Ponderosa State Park.
"We were camping and having s'mores and I was drinking a stout," says co-founder and brewer Matt Nader. "That's when I decided to brew a beer like this."
If you want to combine the smokiness of the campfire with a light, crisp beer, seek out Live Oak's Grodziskie. This Polish wheat ale brewed in Texas weighs in at only 3% ABV, but the 100% oak-smoked wheat malt packs the evocative character of the campfire right in the can.
Hitting the Trail
If you're hiking or doing strenuous outdoor activity, you might want a break from alcohol altogether, but that doesn't mean you can't still enjoy the flavor of good beer. Self Care's non-alcoholic beers are brewed by Three Magnets Brewing in Washington. Self Care describes Scherler as the "Easiest Non-Alcoholic Premium Shitty™ Light American Lager," but goes on to clarify they mean that in, you know, a good way. Pack some Scherler in your cooler or backpack and skip the buzz while still enjoying a familiar style.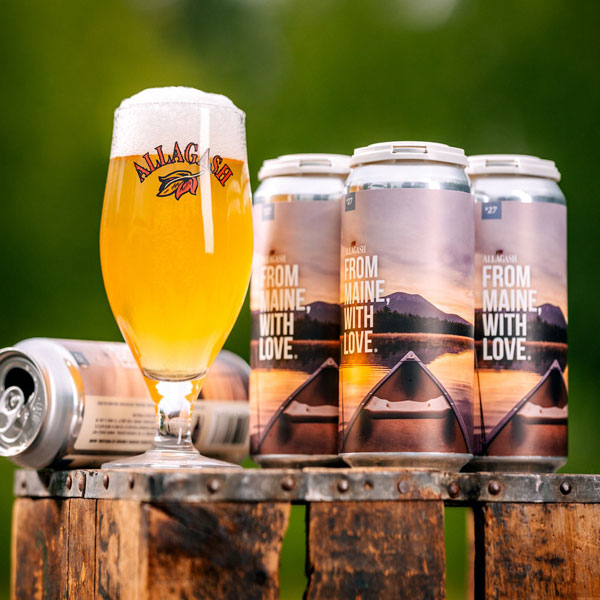 Many breweries brew beers as direct tributes to the lands that surround them. Allagash's From Maine with Love series is a great example. The beers in this series are adapted from pilot batches based on employee recommendations, so while every batch is a completely different style, all of them serve as love letters to the great state of Maine. No. 27, which came out this spring, is a lager loaded with botanicals.
"The idea is a remake of a beer called Spaghett," says Brett Willis, head of communications, describing a cocktail made by adding Aperol and a squeeze of lemon to a popular macro lager. "No. 27 is a light lager with a bunch of botanicals added to it: rhubarb, red cinchona, angelica root, and gentian root. It's a quintessential Allagash beer brewed with local malt and local flaked corn."
Willis says a lot of folks at Allagash enjoy the outdoors, and the brewery gives back to help preserve wild spaces.
"One of the most tangible examples is the Appalachian Mountain Club," says Willis. "They have a Dark Sky Park that is so non-developed, there is almost no light pollution at all. We help them with maintaining that designation."
Short's Spring IPL is brewed in partnership with Pure Michigan, and the brewery describes it as "a lager we hopped to heck." The 5.1% ABV beer is brewed with all Michigan ingredients and serves each year as a reminder that summer is around the corner.
Recognizing Our History
No matter where you're camping or hiking in North America, it's important to pay homage to the land's original habitants. While land acknowledgements seek to recognize the crimes of our colonial past, Shyla Sheppard of Bow & Arrow Brewing in New Mexico wanted to go further in bringing attention to whose land we live on.
The Native Land beer project is a collaboration that can be brewed at any participating brewery. This Mexican lager is brewed with heirloom blue corn at Bow & Arrow, but Sheppard has encouraged breweries to use corn native to their own regions when brewing their version. Wherever it's brewed and enjoyed, the beer serves as a reminder of the original residents of the land, and our own responsibility to both the land and our fellow humans.
Head into the outdoors and enjoy one of these great camping beers the next time you're in the wilderness!
CraftBeer.com is fully dedicated to small and independent U.S. breweries. We are published by the Brewers Association, the not-for-profit trade group dedicated to promoting and protecting America's small and independent craft brewers. Stories and opinions shared on CraftBeer.com do not imply endorsement by or positions taken by the Brewers Association or its members.