We're approaching the middle of summer, and along with the promise and failure of the weather to be nice, a yearly staple has landed – our latest trilogy of Chichibu bottlings: the Chichibu Taboo Series.We've been fans of Chichibu since whisky from the cult Japanese distillery first landed in the UK. Over the years we've built a close relationship with founder Ichiro Akuto and his team, and are very proud to have yearly exclusive releases of his whisky.
The Chichibu London Edition 2022 landed recently (fashionably late, as usual), but along with it came a few more whiskies. A single cask release has already quietly gone out and sold out through our shops, but the next larger releases will be appearing over the coming few months: the aforementioned Chichibu Taboo Series.
Chichibu Taboo Series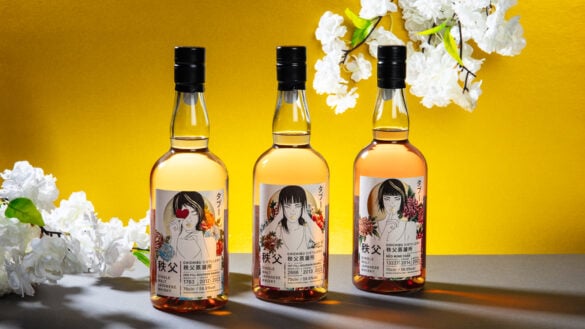 This series of three single-cask whiskies shows Chichibu's whisky at 7, 8 and ten years old, each from a different type of cask, with the middle expression also using peated barley. The labels were designed by Raj 'Mr C' Chavda, until recently our creative director and now leading the design team for our friends at Elixir Distillers.
Continuing Mr C's previous work on Chichibu – he's designed the labels for almost all of the UK single casks that have been released in the UK in the past decade – this is another triptych, showing three women as the Three Wise Monkeys of Japanese proverb: Mizaru (who sees no evil), Kikazaru (who hears no evil) and Iwazaru (who speaks no evil). It also explores the Japanese attitude to tattoos, themselves a frequent motif in Mr C's work.
Tattoo Taboo
Japan has a long history with body art, with evidence of tattoos going back to prehistory. However, over time their cultural meaning in the country has changed, with a period of tattoos being used to permanently mark criminals in the 7th century starting a process of them becoming associated with organised crime. Eventually, they were banned in the late 1800s. The ban was lifted in 1948, but the stigma against them has continued into the present day.
However, over time more people in Japan have become interested in tattoos and, while they are still very much taboo today, attitudes do seem to be very slowly changing. Those who do get tattoos often hide them, and the labels of the Chichibu Taboo Series reflect this – to the naked eye the three wise women are uninked, but shine a UV torch on them and more will be revealed…
The Whiskies
Selected by The Whisky Exchange's founder Sukhinder Singh, each of the whiskies shows a different aspect of Chichibu's character. The casks have added their influence, although in a sympathetic way, emphasising the spirit's flavours as well as adding their own.
Due to the popularity of Chichibu and the limited nature of these whiskies, we will be selling them by ballot over the coming three months – one bottle in each of August, September and October. There's a link the ballot page for each bottle below – click through to sign up to receive notification when the ballots go live.
Chichibu 2012 10 Year Old Second-fill Bourbon Cask #1763 – See No Evil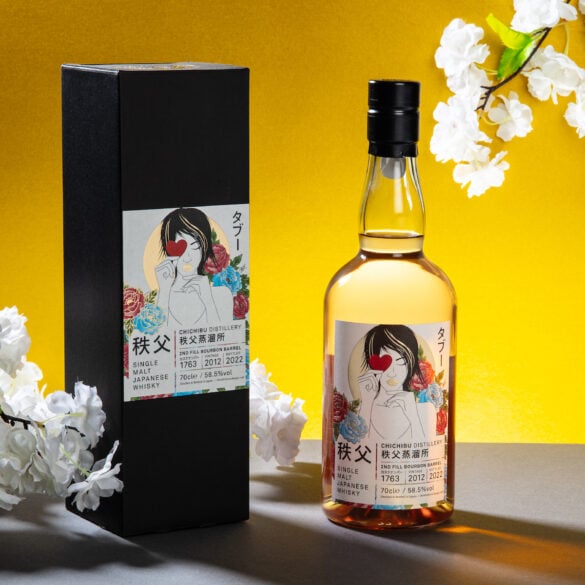 70cl / 59.5% ABV / £225
Ballot 8-9 August 2023 – enter ballot >
Nose: Lemon-flavoured boiled sweets, lemon drizzle cake and candied lemon peel at first. Flapjack grain and hints of porridge hide underneath. Toffee and polished oak develop along with a touch of beeswax and floral honey, as well as fresh apricot and crisp apple.
Palate: Toffee sweetness kicks things off followed by intense apricot and stewed apple. Chocolate and polished oak become rich lemon tart and even more drizzle cake than the nose suggested. Floral notes build: meadow flowers and blossoming orchards. Dark-toasted grain hides at the back.
Finish: Apple tarts and lemon drops linger, with beeswax-polished tables and soft spice developing.
Comment: Fruity and complex, with balanced citrus sharpness and sweet orchard fruit. The cask may be a refill, but it's added layers of toffee and gentle oakiness that keeps everything working together.
Chichibu 2013 8 Year Old First-fill Bourbon Cask #2666 (Peated) – Hear No Evil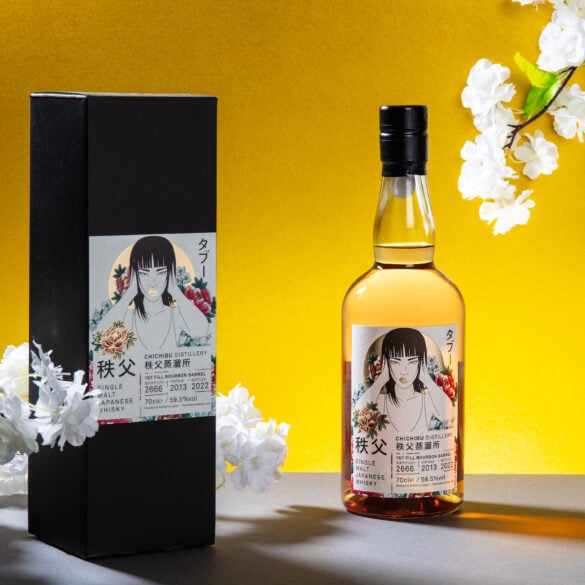 70cl / 59.5% ABV / £199
Ballot 5-6 September 2023 – enter ballot >
Nose: Orange blossom and fruity honey with orange barley sugar and expressed orange peels. Singed pine needles, pine sap and incense smoke are joined by spiced sponge cake, rye crackers and grape jam. The smokiness develops, creating an aromatic contrast that ties the other aromas together.
Palate: Big orchard fruit kicks things off, with apples and oranges joined by the toffee, spiced fruit cake, hints of smacked mint and dark chocolate. The incense from the nose has become aromatic wood smoke, with crusty, freshly baked schwarzbrot and cherry jam developing alongside a touch of fruity jelly.
Finish: The fruit jelly slowly fades to leave polished oak, chocolate, toasted rye bread and lingering hints of incense.
Comment: While the description we were given of this says 'heavily peated', either the distillation process or time in the cask has tamed the smoke and integrated it well with the rich, grain-and-fruit character of the whisky. An exercise in balance and restraint.
Chichibu 2014 7  Year Old Red-win Cask #13337 – Speak No Evil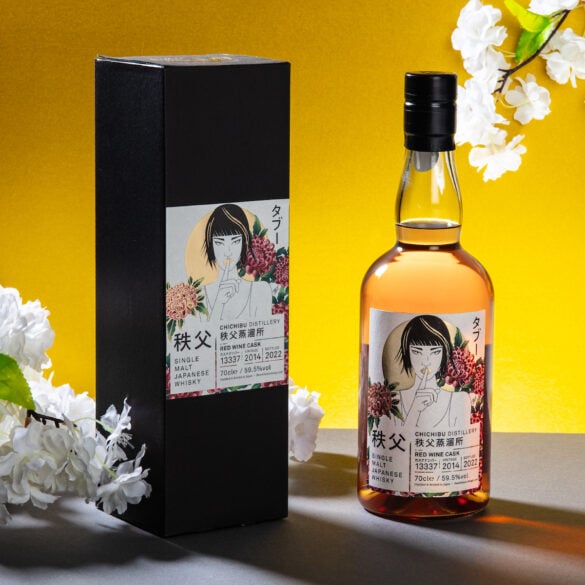 70cl / 59.5% ABV / £225
Ballot 10-11 October 2023 – enter ballot >
Nose: Herbal and aromatic: orange and apple blossom with Green leaves and spring meadows. Sweeter toffee notes build, with a touch of savoury grain: golden syrup sandwiches on brown bread (hold the butter). Toffee apples develo along with touches of barley sugar, fruity boiled sweets and vanilla cream.
Palate: Rich vanilla sponge cake with raisin jam, apple sauce and juicy sultanas. Mouthwatering fruity pineapple, mango, dried guava and a touch of mint follow. Buttery pastry with a dusting of nutmeg develops into a tropical tart. The mint becomes tarragon and green grass.
Finish: Stacks of orchard fruit stew down to a rich apple sauce with touches of pineapple.
Comment: I'm a well-known skeptic of red-wine-cask maturation, but this works perfectly, adding layers of fruit to an already fruity spirit without hiding its rich and grainy character.
…and there's more
If you miss out on the ballots, don't worry – these will all be available to try at Whisky Show, although tickets are now sold out.
And worry not: these aren't the only Chichibus we have up our sleeves. Keep an eye out for another treat later this year.