Tamdhu Speyside Single Malt Scotch Whisky recently released Cigar Malt II, the second in a series that celebrates all that is cigars and Scotch.
A statement from Tamdhu explains that the character of Cigar Malt II highlights the Speyside Scotch's maturation in first-fill European oak Oloroso Sherry casks.
Similar to the process for making cigars, Tamdhu ages the expressions to create what's described as the Cigar Malt's distinctive natural color and robust flavor, meant to complement the profile of famous cigars.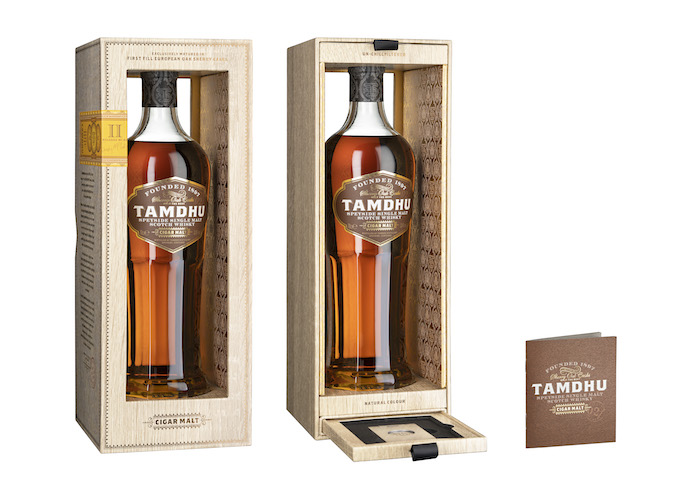 The distiller does so by bottling the Cigar Malt unchillfiltered at 53.8% ABV, which the distiller's notes show the whisky to mimic the spice, aroma, and mouthfeel of aged tobacco leaves.
Sandy McIntyre, Tamdhu's distillery manager, explained that Cigar Malt II has a balanced, creamy nose that gives way to crystallized ginger, golden syrup, and hints of sherry oak. It tastes of winter fruits soaked in sherry with a thick mouthfeel, followed by a malt loaf and vanilla cream.
The finish is lingering and brings a hint of sherry, with honeyed apricots and toasted nuts.
"After the success of our debut Cigar Malt, we are delighted to announce the second expression in the series," McIntyre said. "This latest release honors the age-old cigar and whisky pairing, and boasts a robust flavor profile designed to stand up to the finest cigars and complement their rich aroma. It's the perfect representation of our dedication to full-term sherry cask maturation."
A thousand cases of Tamdhu Cigar Malt II will be available for purchase at www.tamdhu.com and at specialist retailers in the UK, USA, Germany, Netherlands, France, Taiwan, China, Korea, and Australia.
Cigar Malt II has a suggested retail price of £195.99 per bottle.