It's early May in Jerez, the Andalusian town that's at the heart of sherry production, and the high temperatures plus two years of pandemic-related restrictions mean people are thirsty.
For the first time since 2019, the local feria—as the weeklong festivities typical in the south of Spain are called—is about to open its doors. Before the pandemic, more than one million people every year visited the almost 200 temporary bars installed in a public park, a short walk from the city center. Every town has its own feria: Sevilla had its the week before, and the next in line is Sanlúcar, the cradle of manzanilla sherry. It's an understatement to say these events are significant beyond their social and cultural dimensions. According to the Consejo Regulador, sherry's regulating body, a mind-boggling 40 percent of all the sherry sold in Spain in a year is bought at a feria. 
While I'm waiting for my first Rebujito, the ubiquitous mix of manzanilla and lemon-lime soda that's so emblematic of the event, I'm reminded of what Lustau's master blender Fernando Pérez Sánchez told me earlier that day, while I was visiting the renowned bodega: "We created our vermouth to act as a door-opener for people who were never interested in sherry." The crucial fact is that sherry sales are in decline, and they have been for years. If roughly four of every 10 liters of sherry you're producing is sold at very specific events, then you're on track to becoming a drink that's only tied to one occasion. For many people, the only time they order fino sherry is at a feria, so it's crucial to attract new consumers. And many in the so-called sherry triangle have seen the vermouth renaissance of recent years as an opportunity.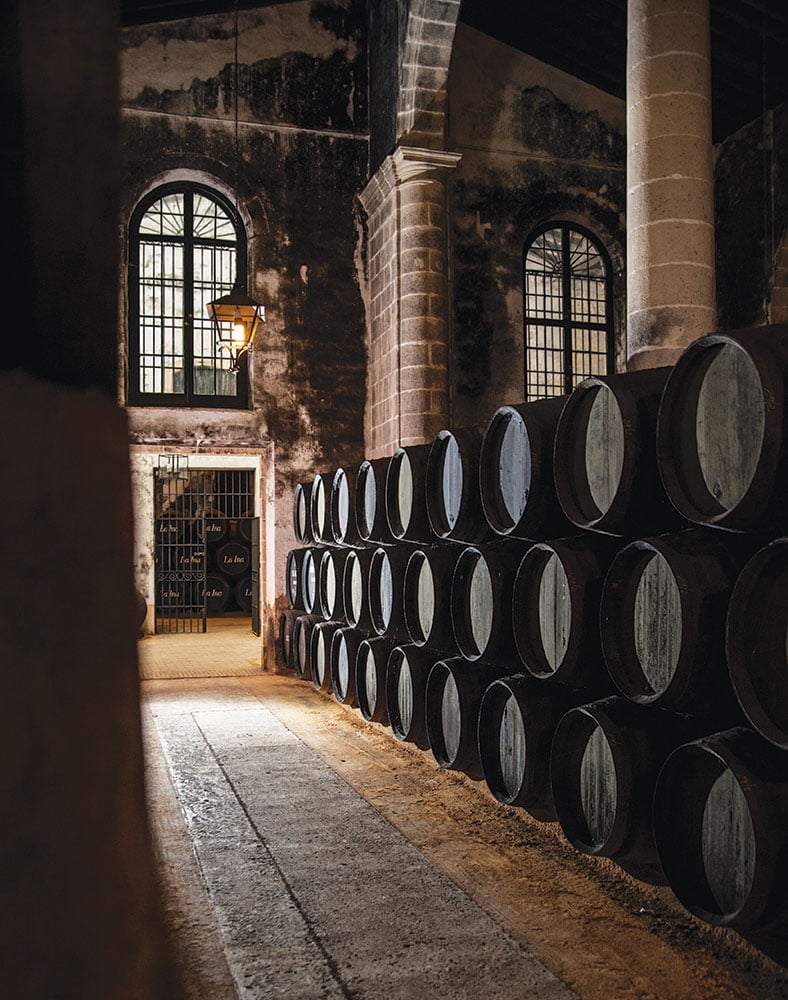 Sherry vermouth, it should be noted, is not a new thing: As early as the late 19th century, sherry houses such as Cayetano del Pino were offering their take on the increasingly popular aromatized wine. But it's highly probable those early sherry vermouths weren't all that great to start with. For one thing, they were an afterthought. 
Originally, most bodegas acted as both producers and distributors to local bars and restaurants. They'd sell these places their wines, but they'd also get requests for other products such as brandy, gin, or vermouth. And because operators preferred to buy everything from the same provider, bodegas logically made—often without much thought or care—their own vermouths. In those conditions, there was a certain degree of improvisation. Vermouths were made with whatever wine was available (maybe not always sherry), and the botanicals also varied depending on availability and the whims of the capataz (cellar master). The recipes, of little importance, weren't always written down. 
In Jerez, this aspect of the trade became irrelevant, as some houses grew while others were squeezed out or acquired by the bigger players. But it was a different situation in Montilla-Moriles, the lesser-known DO (Denominación de Origen) located just outside Córdoba, where Jerez houses get their Pedro Ximénez (PX) grapes. There, since most bodegas remained small and catered to the local trade, they never really stopped producing vermouth. Alvear, the oldest winemaker in Andalucía and the largest concern in the area, is a great example. In 2018, they launched their rojo vermouth to great acclaim, made with 10-year-old dry, PX-based oloroso, and sweetened with 6-year-old PX sherry. The vermouth aims for a new market from a previous, less expensive, mass-market version that had been made with local demand in mind.
Very rich, and with an incense-like nose, [Alvear Vermouth Rojo Artesano de Pedro Ximénez] probably came as a shock to consumers accustomed to milder Italian rosso vermouths…
As Alvear's Inmaculada Luque tells it, the recent resurgence of vermouth made many realize there was further potential in the category. So the Alvear team decided to resurrect an old recipe created in 1955 by then-capataz José Raigón, which he'd thought good enough to keep. Very rich, and with an incense-like nose, this great vermouth (sold as Alvear Vermouth Rojo Artesano de Pedro Ximénez) probably came as a shock to consumers accustomed to milder Italian rosso vermouths like Martini and Cinzano, the two leading brands at the time in Spain.
Back in Jerez, Lustau's Pérez Sánchez acknowledges the wines were an issue, too. "Old recipes called for wines of lower quality, wines you couldn't do much else with," he says. If you were lucky, this would likely mean lower-end cream sherries, a blend of dry and sweet sherries once extremely popular in England, but that didn't typically utilize the best-quality wines. Some producers even made vermouth with the wines used for seasoning sherry casks earmarked for the Scotch whisky trade—that is, the lower end of the low end.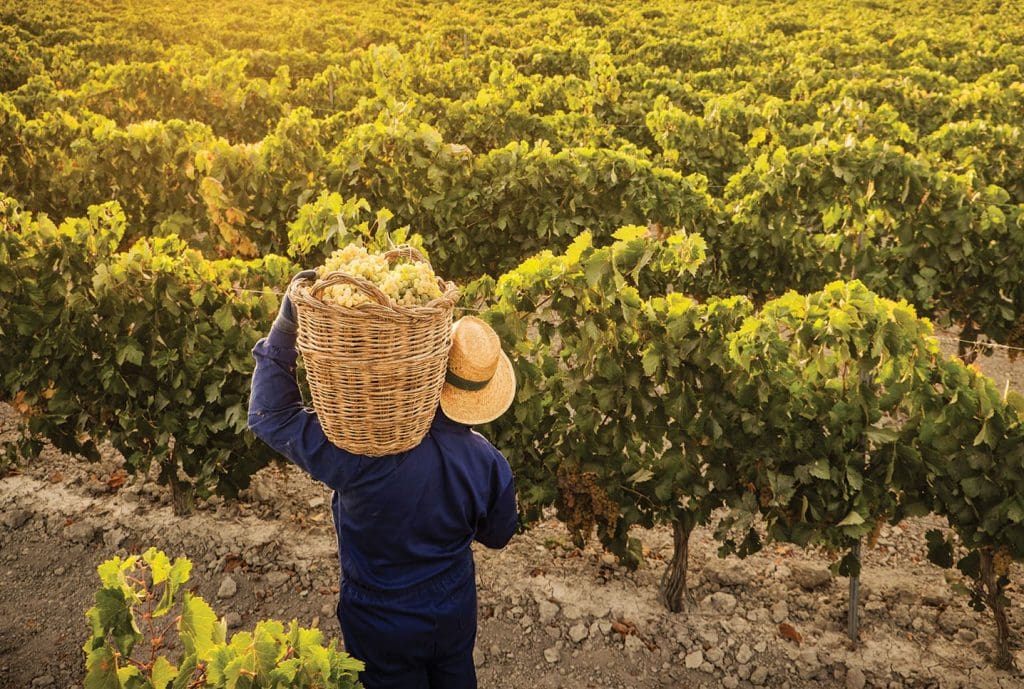 Lustau decided to take the category seriously. They upped the quality of the wine base, going for a 10-year-old amontillado lightly sweetened with PX of the same age (Lustau Rojo is said to be about 20 percent less sweet than most Italian rossos), and developed a brand-new recipe with relatively few botanicals (10 in total). Unsurprisingly for a vermouth designed to attract vermouth drinkers to sherry—and not, at least initially, the other way around—Lustau Rojo is very wine-forward, displaying the oxidative and nutty flavors you'd expect from its sherry base, as well as notes of baking spice and citrus. 
Launched in late 2015, it was an instant success, particularly in the United States, where many bartenders were eager to mix this sherry vermouth with the sherries and brandies from one of their favorite producers. Back home in Spain, it contributed greatly to rising vermouth consumption in the south, where sales of aromatized wine had long languished.
Spurred by this success, Lustau launched two more expressions in the following years: a sweet white vermouth and a rosé vermouth. The former is based on a blend of relatively young fino and unaged moscatel (grape must—the fresh-pressed juice of wine grapes—that's been mixed with spirits to prevent fermentation, thus preserving a natural, fruit-forward sweetness). It's surprisingly potent for a sweet white vermouth, with a lot of rosemary shining through. The rosé is based on the same wine blend, with a touch of Tintilla de Rota, a local red-grape variety, for color. Both have been well accepted, with the rosé a particular hit.
But not all new releases are good. Sometimes, the cloying sweetness of PX takes over a vermouth, while others are clearly based on inferior wines or use poor blends of botanicals. 
Lustau wasn't the first house to try its hand at creating a new generation of sherry-based vermouths; Williams & Humbert introduced their cream-based Canasta in 2008. But Lustau's quality and, above all, success prompted other houses to follow suit. Osborne, Gonzalez Byass, Fernando de Castilla, Garvey, Delgado Zuleta—all have launched their own versions in recent years. But not all new releases are good. Sometimes, the cloying sweetness of PX takes over a vermouth, while others are clearly based on inferior wines or use poor blends of botanicals. Much like the sherry vermouths of old, some producers today view sherry vermouths as opportunistic projects, made with little care. 
A notable exception is Eduardo Ojeda. One of the major figures in today's sherry trade, Ojeda is the co-founder of Equipo Navazos, the cult brand that specializes in limited-edition releases of exceptional wines and spirits. He's also the technical director of Grupo Estevez, which entrusted him with delicate projects including restoring the credibility of La Guita, a historic manzanilla that had lost its shine, and ensuring the legacy of Valdespino, an influential sherry producer that had seen better days.
"When Estevez bought Valdespino, the cellars were in very poor condition and the brand hadn't been tended to," Ojeda says. "We had to oversee the move to a new, modern cellar, and then work very hard to safe keep the essence of Valdespino." At the time, Valdespino was the last representative of a bygone era: They worked with cask-fermented wines from Macharnudo, the most famous vineyards in the region. It was one of the few houses where the terroir was not the cellar, but the actual soil in which the grapes were grown. Ojeda supported Estevez's decision to buy more land, and now they're the largest vineyard owner in Jerez. Today, Valdespino's Fino Inocente and their amontillado Tio Diego are widely regarded by connoisseurs as some of the best sherries on the market.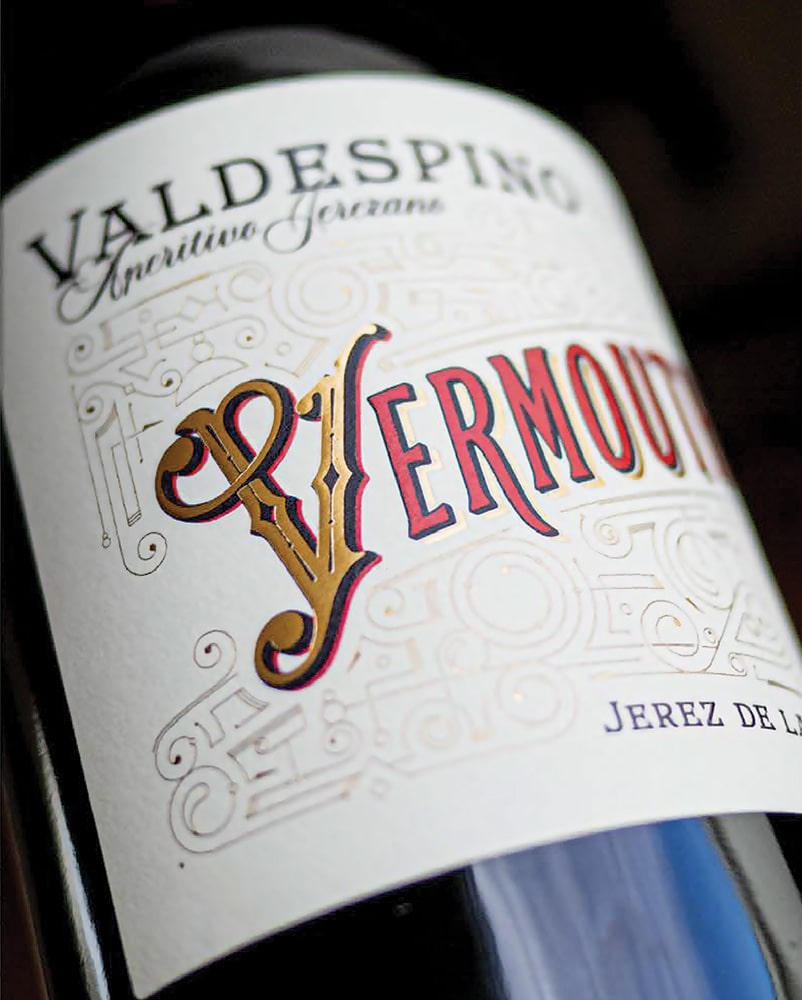 With such a resume, Ojeda, now 67, doesn't have to prove anything to anyone. But his passion for the wines runs deep, and he's as quick to defend the marvels of sherry as he is to discuss the many issues he has with the industry. When he talks about the recently launched Valdespino vermouth, you can't help but feel it was partially designed as an answer to what he sees as the poor-quality vermouths that have appeared in recent years. Ojeda's perspective seems to suggest that if you're focused on the quality of sherry wines, you shouldn't let your standards drop when you make a sherry-based vermouth. 
At Valdespino, they don't. Their vermouth is built on 10-plus-year-old oloroso, from the same solera system as their flagship Don Gonzalo. This dry wine is sweetened with a mix of sugar and 5- to 7-year-old moscatel. Unlike a PX based on overripe, sun-dried grapes, which can make for a very dense, concentrated, almost syrupy wine, moscatel's base of fortified, unfermented grape juice means it remains bright and fruit-forward even after years of maturation.
During our visit, Ojeda has us taste the aromatized oloroso—unsweetened, and straight from the cask. It's a heady brew, heavily bitter, with plentiful herbal notes. Once sweetened, these flavors open up, with hints of baking spice and a brightness that's often lacking in PX-sweetened vermouths. The finished product is a very drinkable, full-mouthed, complex vermouth, with little bitterness but a long finish that offers an interplay of coffee, dry fruits, and toasted notes. It's not just a vermouth—it's a statement of intent.
While Valdespino can be seen as an attempt to make the best possible version of what you'd expect a sherry vermouth to taste like, at Barbadillo, they decided to turn the tradition on its head.
Closer to the sea, in Sanlúcar, a 20-minute drive out of Jerez and the birthplace of manzanilla wines, another vermouth statement was released right before the pandemic hit. While Valdespino can be seen as an attempt to make the best possible version of what you'd expect a sherry vermouth to taste like, at Barbadillo, they decided to turn the tradition on its head.
This all started when Armando Guerra, hired to head the winemaker's special projects division seven years ago, took a walk around the cellars and stumbled upon a few casks where old, discontinued wines and liqueurs had been aging, unattended, for 40 years. Among them were a vermouth and a quina (Spain's sherry-based answer to Italy's chinato or France's quinquina). While the former was pretty much dead from its excessive age, the quina was still very much alive and intense. What if, Guerra and head winemaker Montse Molina thought, we made a vermouth inspired by the flavor profile of the quina? "The vermouth was originally made with oloroso, and production was stopped in the '70s. We didn't have the recipe anymore, and this allowed us to create something new," explains Molina.
For Ataman, as the finished product is called, Molina uses a young, 3-year-old manzanilla from their famed Solear solera, to which she adds a little bit of the aged, once-forgotten quina, and a dozen botanicals. A semisweet vermouth, Ataman is hard to describe. Think, maybe, of a classic sweet white vermouth with a hit of fernet. The salinity of the manzanilla is there, but it's the intense bitterness, complemented with notes of orange blossom or elderflower, that impresses. Very much sui generis, Barbadillo's Ataman shows that you can be inspired by tradition without turning conservative.
We can expect many more vermouths based on the traditional wines of Andalucía in the coming years. It seems doubtful they'll turn their drinkers into sherry lovers overnight. But based on the number of revelers still enjoying Rebujitos at the feria at 3 a.m. on a weeknight, and who are now also sherry-based vermouth drinkers when aperitivo hour rolls around, such changes happen at their own pace.