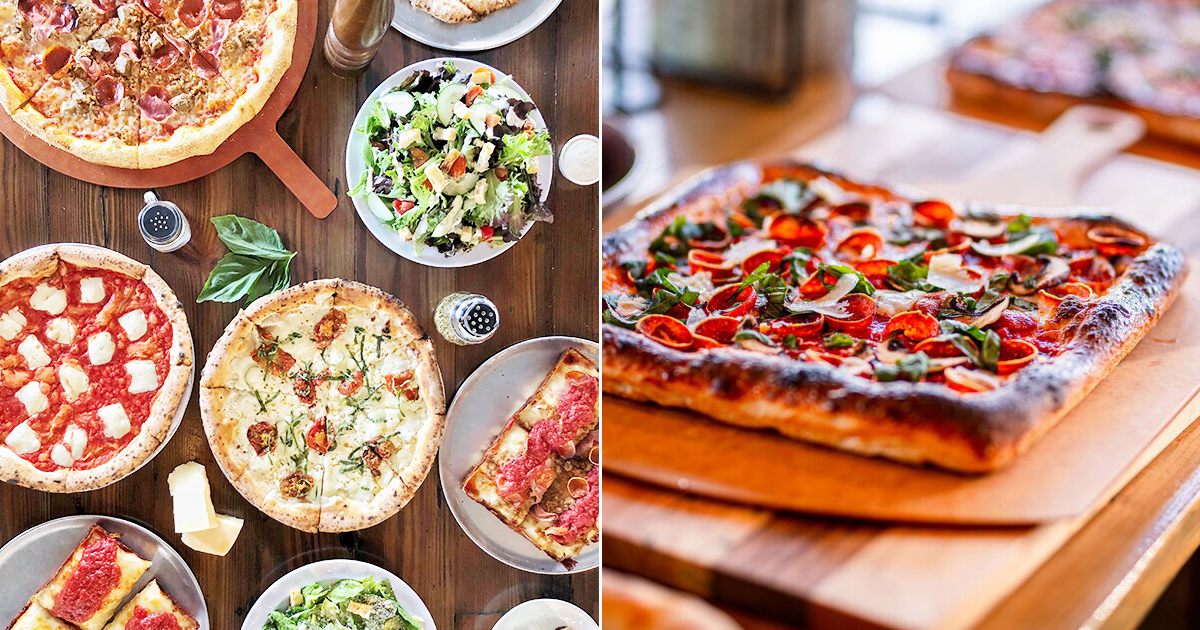 The old principle that beer simply goes with pizza is outdated. People are now putting more thought into these pairings, as they have with the proliferation of superlative pizza offerings. A six-pack of whatever and a pie may no longer suffice, especially when you can find such nuance in enjoying a margherita with Pils, pepperoni with pale ale, or even a Hawaiian with hazy IPA.
The rules for pairing beer with pizza aren't as definitive as the ones that apply to domestic pizza styles (e.g., Detroit, St. Louis, and Old Forge, Pa.), but, analogous to the craft beer movement improving the quality of beer, pizza has been vastly improved by access to better ingredients: 00 flour, tastier tomatoes, and locally made cheeses.
Full of Flavor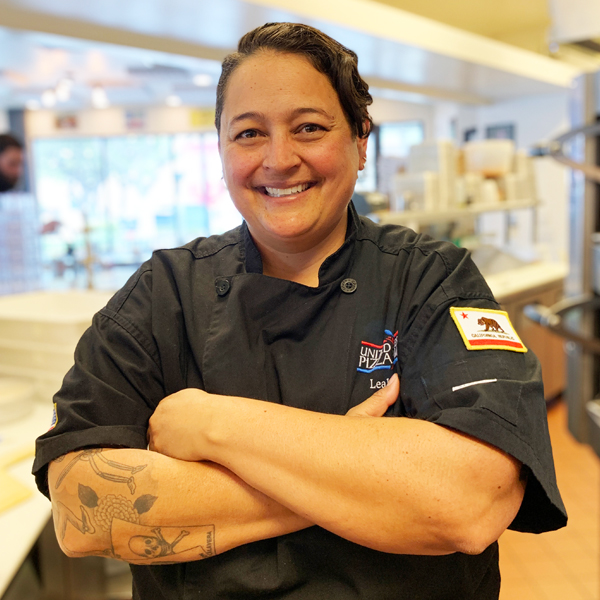 Leah Scurto, an award-winning pizza chef and member of the United States Pizza Team, spent over 20 years working in the Bay Area at Pizza My Heart before moving to Sonoma County to open Pizzaleah in Windsor, Calif. She now stretches pies only a couple miles up the 101 from Russian River Brewery. Pizzaleah is in the vicinity of great beer, but without Scurto's supreme dough recipe, it would be for naught. Her crust is crisp on the outside, chewy in the middle, and super flavorful, like an artisan sourdough—achieved by a three-day cold fermentation followed by baking in high-temperature electric deck ovens. "The press focuses mainly on my toppings," says Scurto, "but there's flavor in our dough, too, which in and of itself pairs nicely with a saison's funkiness." (HenHouse Brewing Company in nearby Santa Rosa makes an excellent example.) Even Scurto's pan pizzas, though thicker than her rounds, have a light airiness to them, more akin to focaccia than a deep-dish.
More than anything, it's the array and inventiveness of toppings that make Scurto's pizzas stand out. "I never make one-topping pizzas. I have a persimmon pizza finished with burrata and finger lime gremolata—which sounds like a lot, but there's always something on a pizza that you can pair with," she maintains.
In this corner of Sonoma County, IPAs essentially sell themselves—four of Pizzaleah's tap lines are dedicated to them. Though IPA's powerful punch of hops may seem like it would overwhelm the subtleties of certain pies, it's the palate-cleansing bitterness that enhances each bite. Bear Republic's Racer 5 is a mainstay, as is a rotating tap from HenHouse—its Incredible IPA highlights a quintet of hops: Cascade, Simcoe, Mosaic, Belma, and Hallertau Blanc. Scurto often carries beers from Fogbelt Brewing too, such as its flagship Del Norte IPA with aromas of pineapple and citrus and a malty finish that she loves to pair with her Triple Threat pizza (red sauce, mozzarella, pickled peppers, pineapple, and pepperoni).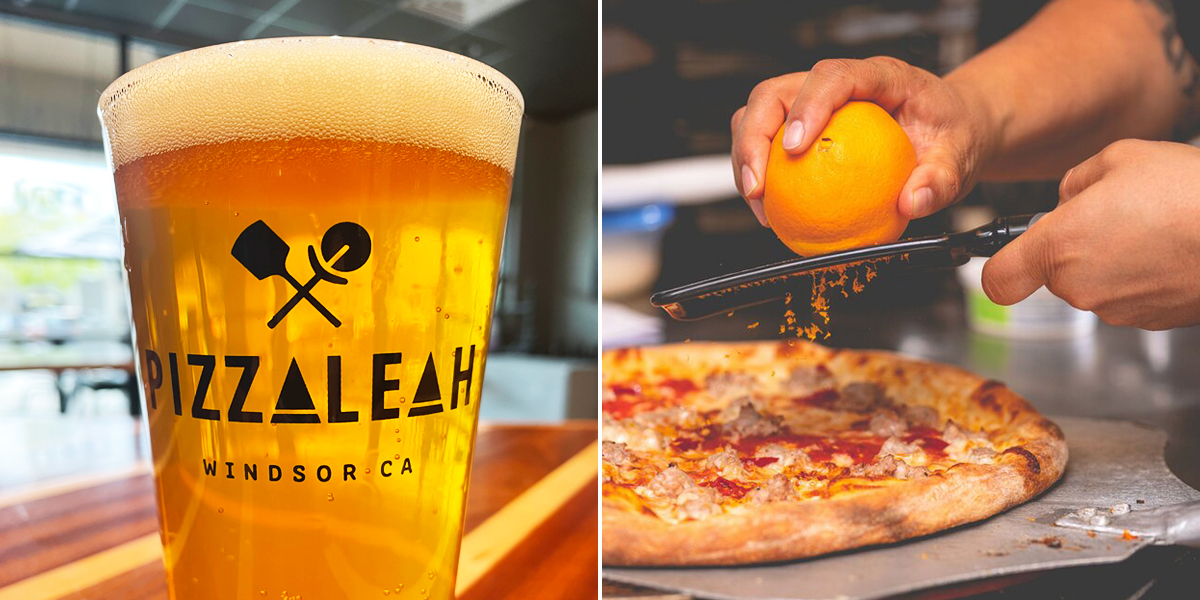 "I'm not going to deter someone from drinking their beer of choice," states Scurto, "but I often point them to a pale ale." Cooperage Brewing makes a lineup of offerings called Curt that are crisp, clean, and less hoppy than an IPA, but with enough bitterness to complement the pizza. But it's often beers that fall outside the hop-forward realm that Scurto finds more intriguing when it comes to pairing with pizza. For pizzas with spicy toppings like Old Grey Beard, a red sauce-slicked pie with mozzarella, fontina, Italian sausage, Calabrian peppers, hot honey, and orange zest, Scurto recommends a Pilsner or something lighter to quell the heat. Seismic Brewing's Liquifaction Kölsch from nearby Sebastopol accents the citrus flavors on the pizza.
Pizzaleah also pours an array of Alvarado Street sours, which play well with fatty and salty toppings mainly due to their acid, reinforcing the notion that pairing isn't all about straightforward assumptions. Scurto's most popular pizza is called Roo's, a fontina and mushroom medley with fresh thyme, roasted fennel, parsley, and shaved parmesan. With this, she'll suggest a dark amber lager from Barrel Brothers, or even the brewery's Dark Sarcasm porter as it is full-flavored—just like her pizzas.
Waiting for Enlightenment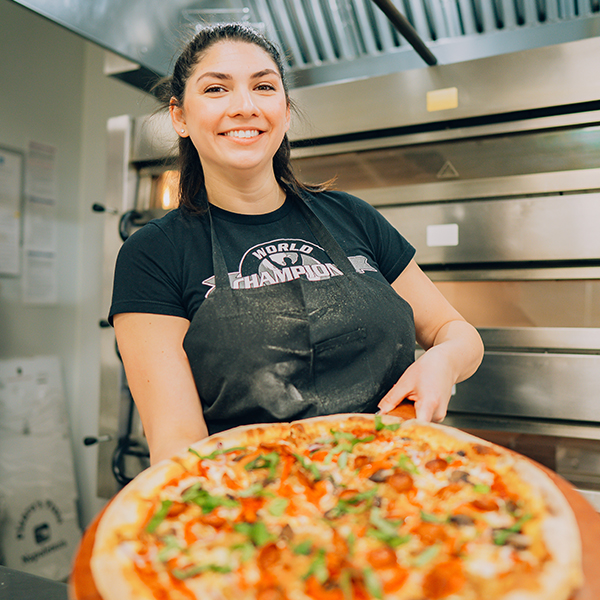 Down in Houston, Nicole Bean, president of Pizaro's Pizza, has been changing the way Texans perceive pizza for a decade, and now she's doing the same with beer. In 2011, her father, Bill Hutchinson, a lifelong oil and gas industry worker, wanted to replace his barbeque pit with an outdoor oven, and it sort of spiraled out of control— the family now owns two pizzerias in Houston. "I was in fashion merchandising, doing window displays, when he called me to open a second location. I said no—I didn't want to be part of the family biz," recalls Bean. Two years later, Bean attended Tony Gemignani's International School of Pizza, forever changing the way she looked at dough.
"There was a lot of guff that the crust was soggy, too soft, doesn't travel well, not enough toppings," recalls Bean of her pizza school experience. She eventually got tired of telling people no and joined the family business. When their Neapolitan-only approach became too cumbersome, Pizaro's introduced Detroit-style pizza for something more substantial, and eventually New York-style, too. But just like with pizza preferences, Bean found that beer drinkers were waiting to be enlightened.
Pizaro's pours Fireman's #4 from Real Ale Brewing Co. in Blanco, Texas, which Bean describes as a versatile blonde ale that plays well across pizza styles. She also likes Southern Star's Bombshell Blonde, out of Conroe, but it's Bean's brother, Matt, who's the real beer buyer, scouring the country for the "funkiest stuff," as she describes
"He goes to Colorado just to bring back a six-pack," Bean says half-jokingly, "or to New Orleans to bring in Moon Shoes (a New England-style IPA from NOLA Brewing)," attracting the rare-beer drinkers to the pizzeria. They may come in for a can or bottle, but while they're there, they also get a pizza.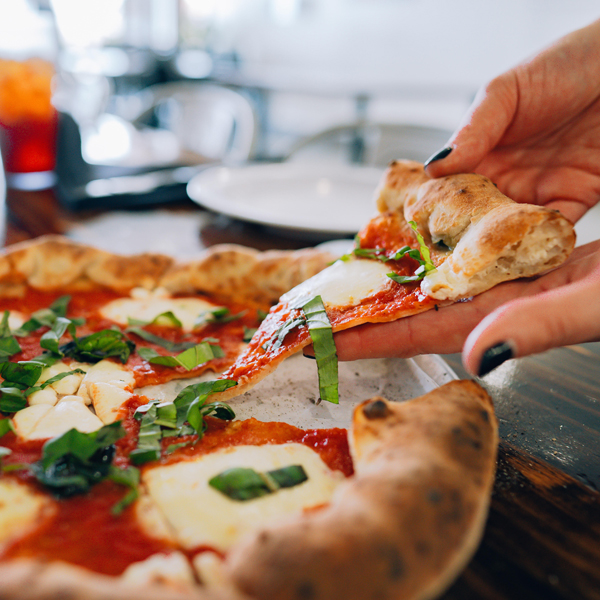 Though Pizaro's Neapolitan Margherita pie is still their most popular pizza, a lot of pepperoni gets sold there too—almost a third of all orders have pepperoni on them. Pizaro's carries regular pepperoni and cupping pepperoni (the kind that curls up when cooked), and their Death by Pepperoni pie uses both styles. Bean highly recommends a beer that can cut through all that fat. "Lone Pint's Yellow Rose IPA out of Dallas is both strong and clean, and SpindleTap's Houston Haze [IPA] works well too; it has a lot of citrus to counteract the intense meatiness." Plus, on those 100-degree Lone Star State summer days, you need something cold and refreshing.
Local & Seasonal
Asheville, N.C. is a hot spot for the craft beer scene, with more than 50 breweries serving just under 100,000 citizens. It's also home to All Souls Pizza, a pizzeria that got its start in grain. Owner David Bauer and chef/owner Brendan Reusing think of flour as a local, seasonal ingredient, especially since Bauer also operates Farm & Sparrow stone mill down the road.
While Bauer advises on the dough/crust, Reusing thinks about toppings year-round, leaning into more proteins in the winter and vegetables in the summer. "We make bresaola, guanciale, and bacon, but also our own sauerkraut and kimchi," Reusing says. He admits that the restaurant tends to stock what he likes to drink, and he's a light beer person, preferring a good Kölsch.
"There's no expectation with a beer and pizza pairing like there is with wine," insists Bauer. As he so poetically puts it, "Pizza is a convivial, social food—people steer toward what they want to have in that setting regardless of the food." Bauer tends to think sours work well with the fermented flavors All Souls puts forth, but maybe not so much with the meaty/tangy offerings, like salumi and pickled menu items.
In the "everything local" vein, All Souls sources strong cheeses from Blue Ridge Mountain Creamery in North Carolina to pair with funky brews, but it's the other fermentables on the table that are staples of the restaurant. With their meal, customers get small bowls of lacto-fermented red jalapeño, carrots, turnips, and fine olive oil, which they proceed to mash together and dunk their pizza crusts into. "Sometimes you need a mental break from all those flavor bombs," concedes Reusing.
A large blonde wood-framed chalkboard at All Souls highlights the local beer offerings: Goldenrod Pilsner from French Broad Brewery; the latest releases from Wedge Brewing Co. and Hillman (most likely their Mommabeer Brown); Hi-Wire Brewing lager; Jape IPA from Foothills Brewing; TRU light; and Nebo Pilsner from Fonta Flora Brewery. Fonta Flora, about 35 minutes east of Asheville, integrates local fruits, vegetables, and wild-crafted products into sour ales for their bottle releases. Bauer has supplied them with grains over the years, and in turn, All Souls has provided them a place to savor their beer—with pizza, of course.
The Roo
By Leah Scurto, Pizzaleah, Windsor, CA
10 oz dough ball
4 oz whole milk, low moisture mozzarella
¾ oz fontina, small dice
10 g extra virgin olive oil
20 g roasted fennel, diced
1 cup mixed mushrooms (cremini, oyster, maitake), sliced (should yield approximately 70 g once cooked)
1 sprig fresh thyme
1 gram fresh Italian parsley
2 grams Parmigiano Reggiano
For the mixed mushrooms:
Preheat the oven to 450° F.
In a bowl, toss mushrooms together with a pinch of salt, then place on a sheet pan. Cook for about 15 minutes, or until the liquid released has steamed off and the mushrooms just start to dry out.
For the pizza:
Preheat the oven to 565℉.
Push 10 oz dough ball out to 12 inches.
Spread out mozzarella and evenly distribute the cubes of fontina.
Add mushrooms and fennel. Drizzle olive oil on top.
Sprinkle herbs over the pizza.
Cook at 565℉ for 7 to 8 minutes, or until dark golden brown.
Pull the pizza from the oven and place on a cooling rack.
Shave 2 grams of Parmigiano Reggiano on top and then sprinkle chopped fresh Italian parsley.
Cut and serve!
Pair with a dark lager or amber ale.
Cracker Thin Pizza Sauce
By Nicole Bean, Pizaro's Pizza, Houston, TX
8 oz Stanislaus SuperDolce Pizza Sauce
2 T. red wine vinegar
1/4 tsp. sea salt
1/4 tsp. black pepper, ground
1/4 tsp. garlic powder
1.41 oz Stanislaus 7/11 Ground Tomatoes
Mix all ingredients together and puree.
Pairs beautifully with:
Southern Star Bombshell Blonde
Cigar City Guayabera Pale Ale
SpindleTap Houston Haze
Contact Info
CraftBeer.com is fully dedicated to small and independent U.S. breweries. We are published by the Brewers Association, the not-for-profit trade group dedicated to promoting and protecting America's small and independent craft brewers. Stories and opinions shared on CraftBeer.com do not imply endorsement by or positions taken by the Brewers Association or its members.