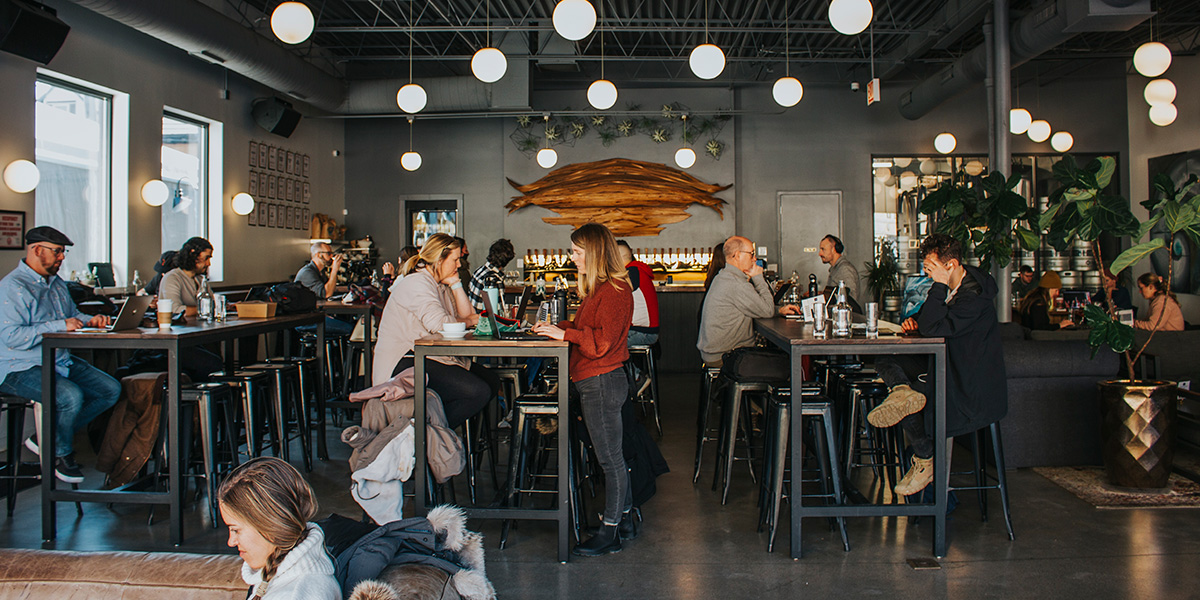 When Bhavik Modi walked into his first ever sales meeting for his new craft beer line, he wasn't alone. Tiffany Wooten, a veteran sales representative from brewery incubator Pilot Project Brewing, was by his side, convincing the team at high-end contemporary Indian restaurant ROOH Chicago to serve Azadi Brewing's cardamom golden ale and Kesar mango IPA.
"I was confident in our recipe and the quality of the beer," Modi says. "But I was nervous about the mechanics of beer sales, like the terms, how these tastings typically go, and other logistical details. Tiffany helped me focus on the beer while taking care of the other factors."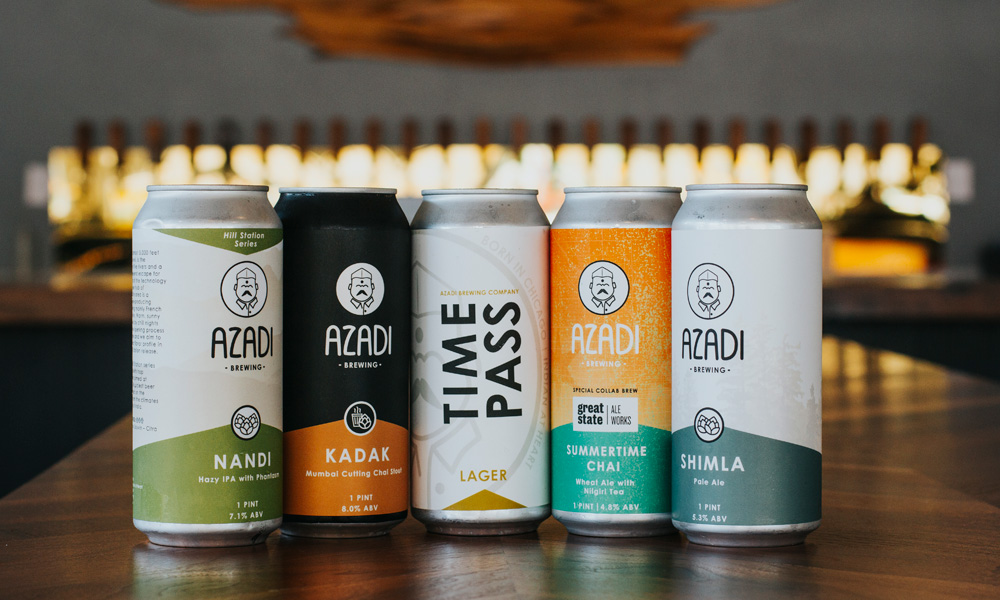 Azadi Brewing reflects the Indian-born Modi's heritage, incorporating Indian fruits, spices, and flavors into his beers. Modi landed the business at ROOH Chicago just a month after he'd started brewing at Pilot Project. Today his beer is available in more than 300 locations across the city.
The Chicago-based Pilot Project's goal is to provide women- and BIPOC-led companies with the kind of investment, production, and marketing opportunities they have long been excluded from in business. Pilot Project has worked to diversify beverage alcohol in the past three years by helping launch and nurture a dozen new brands. For example, Pilot Project helped Modi navigate the buying process and sales cycle for retail accounts such as Whole Foods and Binny's.
"We have been consistently encouraged to be our authentic selves and not apologize for leaning into being an Indian-inspired brewery," Modi says, noting the assistance Pilot provides in sourcing ingredients from India, hosting events geared toward Chicago's Indian community, and encouraging the use of traditional names like Kavi (a cardamom golden ale) and Gin (a Kesar mango IPA). "There can be a tendency as an entrepreneur of color or a different cultural background to westernize your brand, so we appreciated that we could be authentically Indian," said Modi "It's allowed us to not shy away from our culture and background and create a much more inclusive community in craft beer." Modi plans to open a tasting room for Azadi Brewing in spring 2023 and is currently scouting locations.
Historically, it's been harder for women and minorities to launch small businesses. According to the most recent stats from the Federal Reserve in 2017, minority-owned firms experienced higher turn-down rates than white-owned firms when applying for business loans and lines of credit.
Banks turned down 39 percent of minority credit applicants compared to less than 25 percent of white applicants.
Women were turned down at a rate of more than 32 percent compared to less than 26 percent of men.
The brewing industry is not immune to these challenges. In a benchmark survey in 2021, the Brewers Association found that just 5.4 percent of member brewers were owned by a non-white, non-Hispanic person (1.1 percent declined to answer). Woman ownership was almost as scarce, with 23.7 percent of respondents identifying as female. A 2022 study by the Alliance for Entrepreneurial Equity reveals how women and people of color are disadvantaged throughout various stages of building a business. The result is that men own three times the number of small businesses as women; only 2 percent of businesses with employees are Black-owned; and only 6 percent are Hispanic-owned.
"Unfortunately, women and BIPOC historically haven't had financial education and discipline at a young age," asserts Kimberly Clements, managing partner and co-founder of beverage advisory firm PINTS, LLC. "Oftentimes, women and BIPOC, especially, don't show financial independence because they have relied upon a spouse, partner, or their family and didn't think it was important. It's so important!"
Clements recommends that all of her clients have solid business plans and proven financial independence to present to banks, along with due diligence and market research to predict future success. She advises her clients not to commingle finances and to build good long-term credit for a better chance of securing loans.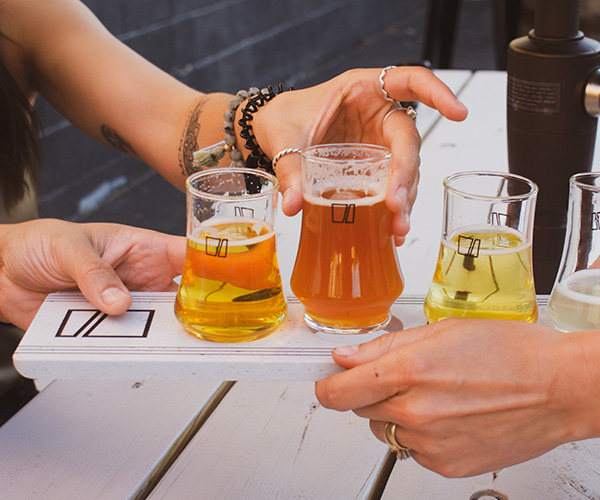 Addressing discrepancies such as these has become core to Pilot Project's mission. Co-founder Dan Abel said his company's goal is to lower the barrier to entry for aspiring businesses by providing mentorship and resources, including assistance securing business loans and distribution placements. The latter can be particularly tricky when an upstart company is trying to get enough attention to put their brand on shelves where competition is fierce, but that's a space in which Pilot Project thrives. With its own distribution license, Pilot Project can distribute incubating brands to more than 600 retailers in Illinois and connect brands with other distributors out of state.
"We've launched a lot of really great brands really quickly," Abel says. "It took time to build those relationships, but now retailers know the Pilot Project team when we walk in. The risk still sits with a brand that people may not know, but they know that the liquid is good."
In his previous career, Abel spent  almost five years in marketing strategy and strategic partnerships at YouTube and four years in various music industry marketing and creative marketing roles. His experience in beer was solely as a homebrewer, which he started doing in 2013. It was enough to see parallels between craft brewing and music in how people approached the business and creative side of things.
Pilot Project brews its own line of beer—Brewer's Kitchen—and operates its Logan Square tasting room like a bar for additional revenue streams. Pilot brewed 400 barrels in its first year, and by 2021, reached 2,500 barrels, split among the company's incubating brands.
As in the music industry, new brands "audition" to become part of Pilot Project. Abel and his team evaluate each pitch, looking for a great product, marketing plan, and business plan. More than 400 applications have been submitted online in three years, leading to 30 in-person "auditions" and partnerships with 13 brands with people from a range of demographic, personal, and professional backgrounds. Pilot Project charges a contract brewing fee to incubating brands but can reduce the fee in exchange for small amounts of equity.
"The expectation on our side is not that each piece gets an A+," he says. "But if you have a narrative for what you're trying to do, then it's clear enough to us—with a full suite of resources at our fingertips—which areas we can either support or lead you."
At any given time, Pilot Project incubates about five different breweries, and also works with folks making other beverages such as hard kombucha and cider. In fact, one of Pilot's biggest commercial success stories has been Luna Bay Booch. The hard kombucha company's focus on probiotics, gluten-free, and low sugar helped its low-ABV flavors like Palo Santo Blueberry, Raspberry Rose, and Grapefruit Jalapeño become fan favorites, with placements on store shelves at major retailers such as Albertsons, Target, Whole Foods, BevMo, and Kroger.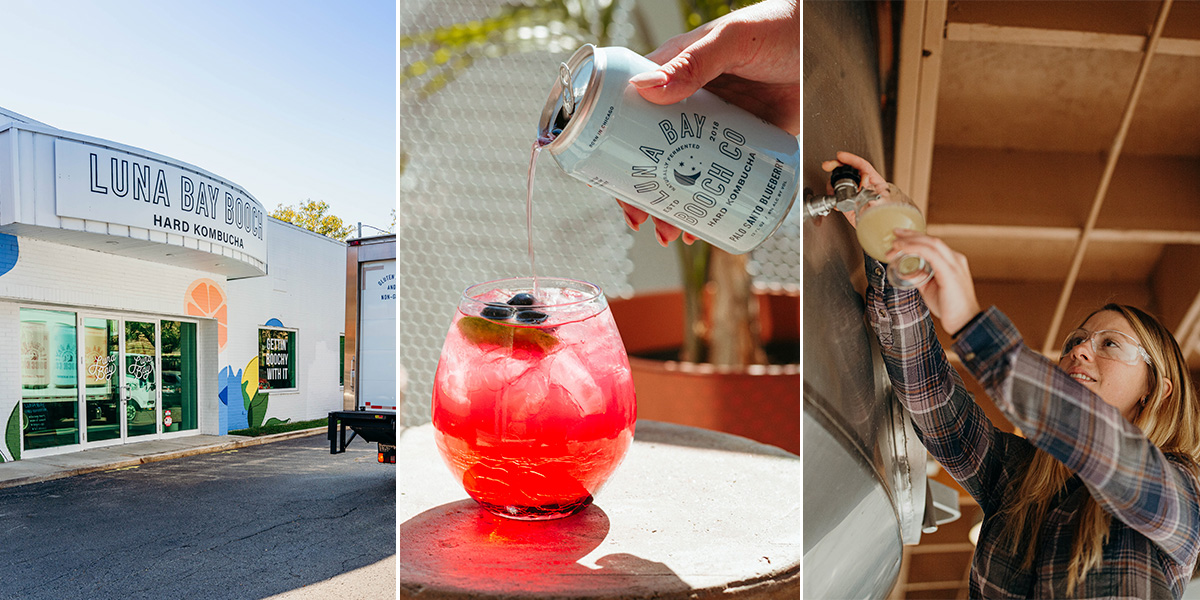 In 2019, when CEO and co-founder Bridget Connelly officially launched Luna Bay, it would have been impossible to meet the production demand for chain retailers. While production was once managed from home, Luna Bay grew to the point where it needed to produce a couple cases a week for 17 different stores in Illinois.
Connelly found the solution right in her hometown of Chicago. A brewing consultant put her in touch with Pilot Project, which gave her the space and capacity to take her company to the next level.
By the time Connelly connected with Pilot Project, she had already been turned down by breweries for contract production. "We're so grateful they took a chance on us," she said, noting that Pilot Project co-founders Abel and Jordan Radke were key in supporting her ideas and innovation. "It was a very collaborative space and they fostered a strong community."
In 2021, Luna Bay grew its dollar sales 35 percent in chain retail stores, three times the rate of the flavored malt beverage category. The scale and ability to secure placements in its earliest years offered a rare opportunity for a nascent company on the way to earning just over half a million dollars last year, according to market research company IRI.
Funkytown Brewery is one of Pilot Project's current incubating breweries, a Black-owned brand founded by three childhood friends. They launched their first beer through Pilot Project in October 2021 and have now released six in all, including five rotating seasonal brands and a year-round pale ale, Hip-Hops and R&Brew.
"We didn't understand the lead time needed to produce seasonal beers, and we didn't have any prior insight into the wholesale buyer's perception when it comes to seasonal names and when they are most open to making that purchase," said co-founder Richard Bloomfield. Funkytown is now available in more than 150 locations in the Chicagoland area, including larger chains such as Whole Foods, Jewel-Osco, Foxtrot, and Binny's.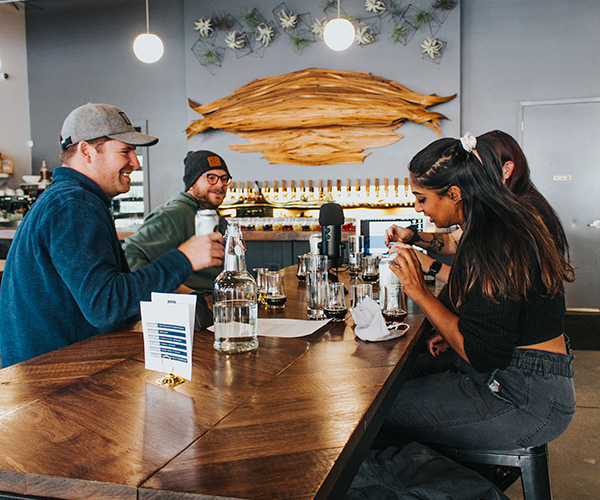 Funkytown was brewing 20 barrels a year when it first started with Pilot Project and they're now up to 100 barrels a year across two facilities: Pilot Project and Miskatonic Brewing. "Pilot saw the need for us to expand beyond their brewing capabilities, so they started working on that relationship with Miskatonic at the beginning of the year, including the legal stuff," Bloomfield says. "They didn't want to hamper our growth."
Bloomfield says their goal upon "graduating" from Pilot Project is to increase production to 200 or 300 barrels and deepen relationships in Chicagoland through partnerships, collaborations, and community service. Bloomfield's day job is as a non-profit project manager, so philanthropy and giving back to the community is a core value for Funkytown. Recently, they donated profits from their Black is Beautiful beer to The Gray Matter Experience and they're planning more events where they can support non-profits like Coffee, Hip-Hop & Mental Health as a beer vendor.
"The goal is to build a dope, unique brewpub experience in Chicago that brings in more Black people and women craft beer drinkers along with other races and sexual orientations that have been under-served by the industry," Bloomfield says. "We're still figuring out what the path to that looks like, but we're confident that Pilot Project has helped us build a solid foundation to stand on."
Pilot Project's incubator and taproom have been so successful that they have reached maximum brewing capacity and are currently subcontracting to other breweries across the city. They plan to consolidate operations into a new, larger production facility soon, with hopes to ultimately expand nationally and even internationally, breaking down barriers in craft brewing globally.
"We saw Napster break down those barriers in the music industry, where all of a sudden anyone's music could be heard," Abel says. "All you had to do was upload it and download it."
YouTube did the same thing with videos and Pilot Project is doing the same for craft beer.
"When you've stifled the growth of so many different cultural groups within an industry for so long and you open that door, a lot of really cool ideas come to the forefront."
The Brewers Association and Craftbeer.com are proud to support content that fosters a more diverse and inclusive craft beer community. This post was selected by the North American Guild of Beer Guild Writers as part of its Diversity in Beer Writing Grant series. It receives additional support through a Diversity and Inclusion Grant by the Brewers Association Diversity Committee and Allagash Brewing Company.
Contact Info
CraftBeer.com is fully dedicated to small and independent U.S. breweries. We are published by the Brewers Association, the not-for-profit trade group dedicated to promoting and protecting America's small and independent craft brewers. Stories and opinions shared on CraftBeer.com do not imply endorsement by or positions taken by the Brewers Association or its members.