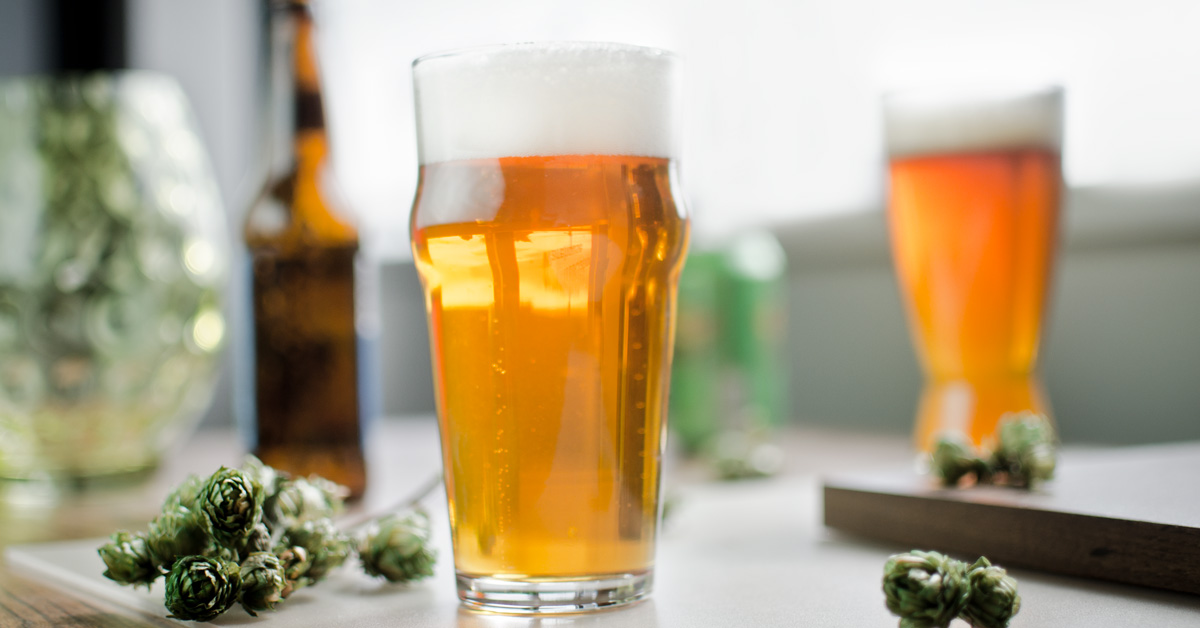 As if the countless American IPA iterations were not enough to satiate a hophead's palate, a new one—dubbed Cold IPA—lingers bitterly on the horizon. And no, Reddit, it's not just a marketing ploy.
"Clunky" doesn't readily come to mind as a beer descriptor, but that ungainly word may be the reason the world has yet another IPA in its clutches. It's how the brewmaster of Wayfinder Beer, Kevin Davey, feels about International Pale Lagers (IPL)—specifically, that lager yeast strains fermented at cooler temperatures emit flavors and aromas that don't jibe with loads of American hops. Thus, Davey set out to develop a beer that's more graceful than an IPL, has better execution than a dry-hopped lager, and is the arch nemesis of New England IPA (NEIPA). Who better to do so than a Portland, Ore., brewery that produces both lagers and IPAs?
Davey wanted to build a "Wester than West Coast" IPA from the bottom up—not from the top down, and definitely not shooting from the hip. The final product sits at the sweet spot between "crisp and sessionable" and "strong and sneaky," and "has a magnificent hop aroma, clean assertive bitterness, and a bold, clean finish that makes the drinker crave another sip," according to Davey's tell-all published in New School Beer last March and his conversation with Craft Beer & Brewing Magazine Podcast. This brewer is so passionate about his brainchild, Wayfinder Beer's Relapse IPA, that he went practically everywhere to set the record straight about how it's made: add rice or corn to a Pilsner malt base (because what's more American than brewing with adjuncts, Davey jests), throw in just enough bittering hops, and ferment with a lager yeast at ale temperatures. This prevents excess sulfur dioxide and esters that can clutter the palate ("clunky," remember?). Next, dry hop with tons of American hops at krausening so the yeast scrubs oxygen and biotransformation occurs. That's when the yeast basically "wingmans" the hops to bring out the best in them (yeast can be pretty sweet friends).
At about 7% ABV, filter until clear, and voilà: a straw-yellow, crispy, boozy, and bitter yet highly drinkable hop bomb. Consumers are lapping it up. Rated an 88 on BeerAdvocate, Wayfinder's Relapse IPA lives up to the hype. Naturally, others had to give Cold IPA a go.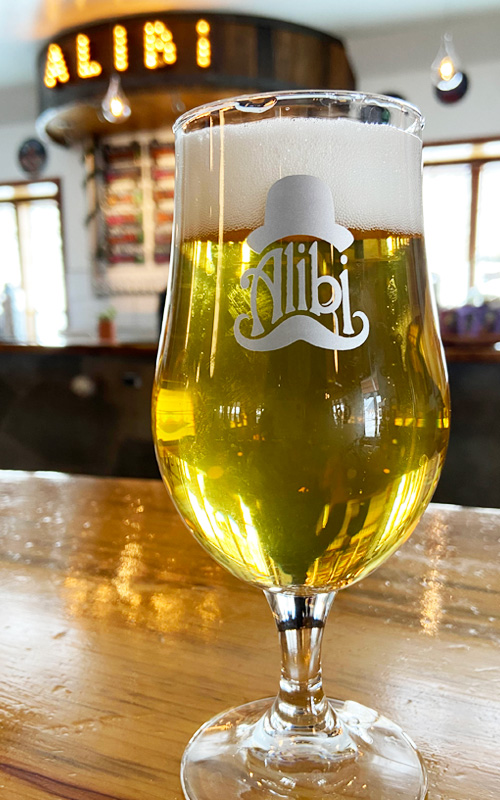 Joe Steinfelds, head brewer of Alibi Ale Works in Lake Tahoe, Calif., makes a great point when he jokes, "try calling a Kölsch-style beer a 'Hot Helles' or an Altbier a 'Hot Dunkel' and see how many you sell." He's not wrong (although, Hot Helles sounds kind of fun).
Cold IPA connotes crispiness and crushability; Alibi brewed one to celebrate its wintry 7th anniversary in December 2021. Steinfelds was truly inspired by Davey's conceptualization of the style —"exploring the American lager tradition and taking it in a new direction" in Steinfelds' words—and Alibi followed Davey's recipe almost 100 percent. The result? A "super aromatic yet crisp hop delivery vehicle exuding complex flavors of juicy tangerine, fresh-cut pine, overripe pineapple, and long hikes in wet forests," according to Alibi's description of its first-ever Cold IPA.
Still, Steinfelds is not convinced that Cold IPA is its own style. As a German-trained beer sommelier and graduate of the Siebel Institute's Master Brewer program, he identifies as a "style cop," but only about classic beer styles. "My training just would never let me call a dry-hopped lager a Helles. Call it a dry-hopped lager." Beyond that, the freedom to be creative with recipes and processes is what he loves about craft beer—"that we can put our twist on a beer style and make it something special." From Steinfelds' professional point of view, if a beer sells better as a Cold IPA than it does as an IPL, then for goodness' sake, it's a Cold IPA (even if he still doesn't see how it's not an IPL).
What's cooler than cold? A Cool IPA, of course. While Fort Point Beer in San Francisco refrains from explicitly using the term "Cold IPA," its new addition to the family, a cold-fermented IPA called Cool, was developed from the R&D program after head brewer Mike Schnebeck was introduced to Upright Brewing's Supercool—an IPA open-fermented with a saison strain at lower temperatures to subdue the yeast's typical estery and phenolic profile (are you getting the gist yet that there are infinite ways to brew a beer?). Cool is not exactly what Wayfinder's Davey outlines for the Cold IPA trend, but the sentiment holds true: play with your yeast.
"Yeast have personalities just like people, and if you focus on how they actually respond and adapt to their environment—things like pressure, temperature, types of sugars—you'll discover that you can get more out of them," Schnebeck philosophizes. By fermenting with a California ale yeast at around 58 degrees Fahrenheit, Fort Point discovered a smoother IPA with bright citrusy character that, in turn, became a year-round release and even led to this mildly poetic description: "Like the simple pleasure of meandering through San Francisco on a cool, clear night, this IPA is a reason to fall in love with what was there all along." Apparently, crisp IPAs pair well with walking.
While Schnebeck doesn't see how an IPA brewed with lager yeast at ale temperatures isn't just a hoppy steam beer (sorry, Davey), he appreciates that a brewer's process is what makes a beer unique. "There's so much focus placed on ingredients that the role of process is often overlooked," he says, which is how brewers make their mark on a beer. Schnebeck adds that beer styles are useful to an extent, such as recognizing history, and continues: "If styles and names are too rigid, things aren't fun, but if they get too whimsical and inventive, no one knows what the hell is going on anymore." (So, an Imperial Session IPA isn't a style?). As for Cold IPA, it certainly tastes great, but the name itself may be a little too bold for Schnebeck's palate.
So, Cold IPA is a new style, right? Well, officially, no. Every year since 1979, the Brewers Association (BA) publishes its Beer Style Guidelines "as a reference for brewers and beer competition organizers" and which form the basis for the Great American Beer Festival® (GABF) and World Beer Cup® style descriptions—the two most renowned beer competitions in the United States.
Take a quick peek and you'll find "Cold IPA" nowhere. That's because it can take years for new styles to stick and the BA would rather not go through the hassle of outlining details for, say, a Brut IPA when they could simply lump it into the Experimental India Pale Ale category. At first glance, that may read like a misfit catch-all, but according to the Brewers Association guidelines, "Beers in this category recognize the cutting edge of American IPA brewing." Sounds like a fine place for Cold IPA to hang out for now.
For perspective, Hazy or Juicy IPA wasn't officially added as a category until 2018—the same year it stole American IPA's crown as the most-entered beer style. The BA knew at that point that Hazy IPAs were kind of a big deal—not "only a passing fad [that] is quickly forgotten," which is a reason why "the addition of a style or the modification of an existing one is not undertaken lightly"—and gave it a room of its own.
Beer style guidelines are a common language brewers and consumers use to get on the same page. CraftBeer.com writer Kellan Bartosch addresses the usefulness of styles from a consumer standpoint: "Each brewery's Baltic porter will be slightly different, but once you know a few basics about what a Baltic porter is like, you will have expectations, just like you would after ordering a chimichanga."
He also points out that "once you really know styles, only then do styles matter less." Beer styles are dynamic and for most great brewers, they're a jumping off point. The breaking, bending, or stretching of existing styles is how breweries express creativity and showcase expertise. These nuances can be tiny indicators like the familiarity of a house yeast strain, or as obvious as the difference in appearance between filtered and unfiltered IPAs.
"The task of creating a realistic set of guidelines is always complex," the Brewers Association states in its guidelines. Adding a new style takes years of "research, consultation, and consideration," and is often driven by the artistic license of brewers. So, I guess the only question left is: If Cold IPA is brewed in the forest and no one is around to officially categorize it, is it any less delicious?
Contact Info
CraftBeer.com is fully dedicated to small and independent U.S. breweries. We are published by the Brewers Association, the not-for-profit trade group dedicated to promoting and protecting America's small and independent craft brewers. Stories and opinions shared on CraftBeer.com do not imply endorsement by or positions taken by the Brewers Association or its members.