Indri-Trini Single Malt Indian Whisky, distilled in Indri, Haryana, near the Himalayan foothills, is set to see facetime with American drinkers as it enters select states in the coming months.
What's being called Indri-Trini Single Malt Indian Whisky: The Three Wood, according to those behind it, is made from indigenous six-row barley grown for hundreds of years in Rajasthan. Among other considerations, it is also said to be the first Indian whisky to be produced in three different wooden barrels: ex-bourbon, ex-wine, and PX sherry casks. It is then bottled and non-chill filtered with no colors added.
Indri is named after the village where the distillery resides that it is produced in. The extreme temperature of this region in Northern India, it is said, where temperatures swing from 122 F in summer to 32 F in the winter, helps the malt spirit mature faster inside the barrels.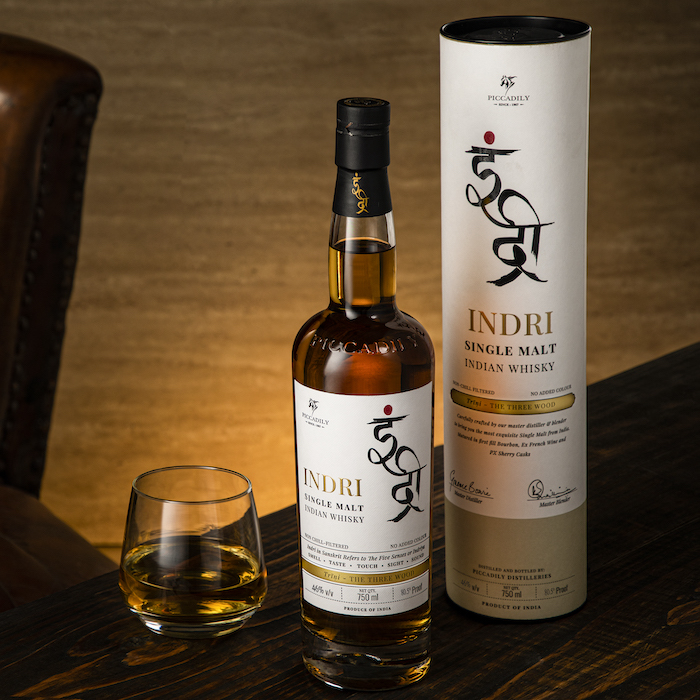 "Being the largest independent malt manufacturer and seller of matured malt spirit in India," said Siddhartha Sharma, Founder, Piccadily Distilleries, in a prepared statement, "the natural progression was to launch our own single malt. Our thought was to showcase the best of the liquid we have at our distillery to the world – that is how the concept of Indri-Trini – The Three Wood emerged."
Indri-Trini is imported to the US by ImpEx Beverages and is available for $55 at select retailers. Official tasting notes are below.
Smell – Gentle and mellow. Black tea; caramelized pineapple; oak; vanilla; honey; raisin; sweet cherry.
Taste – Smooth and warm. Gently spiced; woody; nutty; a slowly deepening, full-mouthed feel.​
Touch – On the tongue. Velvety; complex; long-lasting warm
Sight – Earthy and subtle, no added color. Amber; golden; sunset. ​
Piccadily Distilleries, for those unfamiliar with them, owns three distilleries in the Northern part of India: Indri, Patiala, and Bawal. The malt distillery at Indri is located off the famous Grand Trunk Road (which linked Central Asia to the Indian Subcontinent for almost 2500 years) and was set up in 2012. The distillery is also home to 6 traditional copper pot stills (designed and made in India) and 40,000 barrels. Today, it is India's largest independent malt manufacturer and seller of malt spirits, with a production capacity of 12000 liters daily and up to 4 million liters yearly.
The distillery is rapidly expanding its warehousing capacity to hold another 30,000 barrels. A new visitor center is also under construction and will be open for visitors by the end of the year.