High Wire Distilling out of Charleston, South Carolina, is known for doing some rather innovative and fresh approaches to craft whiskey production, particularly in their use of rare grain types. Now, in a rather unique bottling set to be released, they're offering up a smoky variant of their Jimmy Red Corn bourbon distilled from corn smoked in a ham smokehouse in Tennessee.
The new High Wire Benton's Smoked Jimmy Red Bourbon Whiskey, according to those behind it, is done in a partnership between the distillery and Allan Benton of Benton's Country Hams in Madisonville, TN. As mentioned to us over email by Scott Blackwell, co-founder of High Wire along with his wife Ann Marshall, "Ann and I had been thinking about making a smoky whiskey but we weren't really sure how we'd approach. The idea of a working with a smokehouse came to us during a visit in 2019 to a palenque in Oaxaca.
"The first person we thought of was Allan Benton of Benton's Smoky hams in Madisonville Tn. Allan is a legend in the culinary world and his hams and bacon grace many high end restaurant menus.  He and his wife Sharon are longtime friends of ours and fellow Southern Foodways Alliance members.  Anyway, we approached Allan with the idea of smoking some of our Jimmy Red. Being a whiskey lover, he loved the idea and a collaboration was born.
"This release is from that original 5k lb batch. Allan and his team hand bagged the corn in his ham bags and hung them on his smoking racks  and placed in the smokehouse alongside his famous bacon and hams for about a week. From there we followed our normal mashing, fermentation and distilling procedures and placed it in 18 month, air cured char 3 white oak barrels from Kelvin cooperage."
What's resulted is a 90 proof bourbon coming in right at two years of age following an initial barrel entry proof of 110. This release follows on the heels of a younger corn whiskey, done in the same style, which was released back in 2021.
Plans call for High Wire Benton's Smoked Jimmy Red Bourbon Whiskey to initially be released at the distillery on Oct. 29 during a ticketed event. Following that the bottling will see limited distribution in likely both DC & NY and for shipment via online retail partners.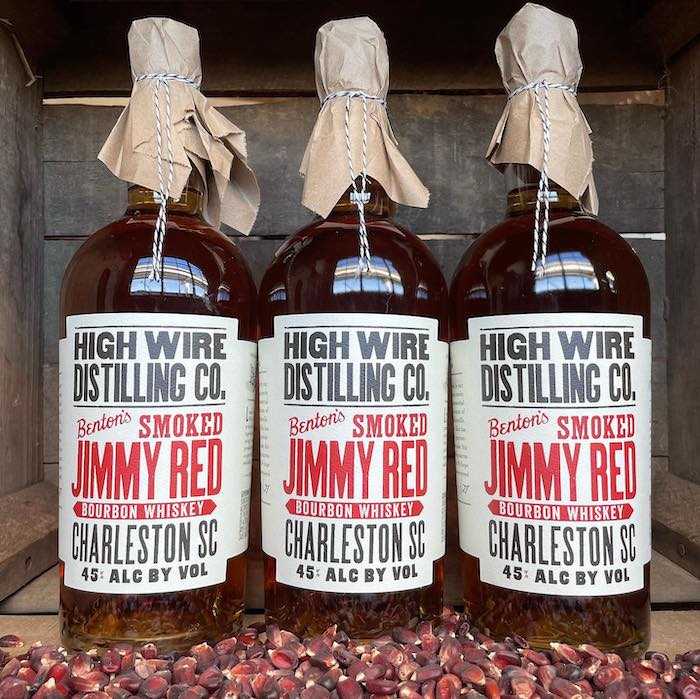 Official tasting notes are below from High Wire.
Nose: A Classic "Benton's smokehouse" nose with hints of tropical fruit and vanilla.
Tasting:  A rich smoky flavor with loads of mouthfeel. Lots of body , spice, and light vanilla.