Have you ever noticed how climbing bines of emerald hops resemble pea plants? Like hops, peas are botanically fruit, but that doesn't stop many people from regarding them as green vegetables. Just as peas are eaten in spring salads and exalted as summer produce, hops play an important role in supporting farmers market fare, bolstering beers with lighter grain builds to better pair with bitter greens and brassica.
Chefs such as Josh Niernberg at Bin 707 Foodbar in Colorado are finding ways to marry their local flavors and tap lines. Bin 707 is in Grand Junction, just 25 miles east of the Utah border, in the fertile region known as the state's wine country. It's also historically renowned for beet farming. Niernberg sources his from nearby Palisade, where sugar beets were once a big industry.
"We'll use them fresh, salt-roasted, smoked, and pickled—that's how we manipulate acid, salt, and savory [in a dish]." It's a vegetarian riff on his elk tartare, which upon first glance looks identical, but the beets are either salt-roasted or smoked, tossed with citrus, dressed with a vinaigrette, topped with honey yogurt, then adorned with puffed beet-dyed tapioca crisps and a crest of frisée. "I'm big on sour [beers], not super heavy on barrel, with a little bit of salinity," says Niernberg, suggesting Verboten Brewing's Roll in Ze Watermelon Gose as a perfect foil for the beet dish. "The beer has green rind, not bright red watermelon flavor," which adds a splash of necessary acid to beets' inherent earthiness.
Preserving Local Flavors
When Niernberg and his wife opened the restaurant in 2008, access to local seasonal produce highly informed their menu. There was no shortage of opportunities, but in trying to capture the rich and vibrant farming community, so much of the menu conception was preserving those flavors for future use. Fermentation is a main component of Bin 707's larder. "Wild beers are hand-in-hand with preservation," from the many pickles to conservas that are highlighted on the menu, pairing well with Crooked Stave's lacto–fermented sours and farmhouse beers like Jester King's Le Petit Prince, with notes of citrus and straw. "I want to sit down and session [these beers] with dinner," notes Niernberg.
Another facet that Niernberg considers is cellulose, the fibrous cell structure of many fruits and vegetables. "It's more the [water] weight of the dish than anything," Niernberg states, explaining the dehydration process he uses for most vegetables. "First we dehydrate, then use a 3 to 4 percent saline brine, do some lacto-fermentation, then slice and dehydrate again." Not all of his bumper crop fare becomes condiments or crispy chips, though—a transformation that is less about taste than texture.
In a similar form, radishes are ubiquitous as crisp accents and garnishes, tiled atop a trout rillette as if scales, or found throughout the menu at Tacoparty, Niernberg's taco shop down the street from Bin 707. When it comes to the array of radishes, Niernberg believes "their sweet spot is a cold fresh lager," offering up Rhode Island's own Narragansett Lager, which is new to Colorado. Even though radishes aren't the star of a mussels and lemon verbena curry dish, Niernberg uses large slices of daikon in place of bread, adding a clean, fresh bite to the dish.
For smaller snacks, Niernberg self-admittedly overutilizes a common brassica: cauliflower, which he deems "the champion of any appetizer." Crispy fried cauliflower is strewn over sunflower and mayacoba hummus and drizzled with spicy and sweet honey-inflected chili oil, giving the dish a kick. The same impact is found in Tacoparty's crispy cauliflower taco, with green chile mole verde, queso fresco, sage honey, chives, and salsa macha, all on a house-nixtamalized blue corn tortilla. Here, pale ales and IPA reign, cleansing the palate of heat and sweetness.
Another often overlooked vegetable is the humble potato, which Niernberg highlights in a yellow banana potato bisque—paying homage to the San Luis Valley, which prospered from the potato economy for the past 150 years—bolstered by a kick of 'nduja (soft Calabrian sausage) and dotted with trout roe and herb oil. Niernberg loves pairing this with Crooked Stave's Sour Rosé Ale to amplify the spice while contrasting the starch. La Cumbre's Vivid Wild Hazy IPA and Bottle Logic's Hanamachi Black Rice Lager also grace the menu, adding a bitter backbone and a nutty dry complement, respectively, to many dishes that call out Colorado's famous Olathe sweet corn, Fremont beans, and more.
A Supporting Role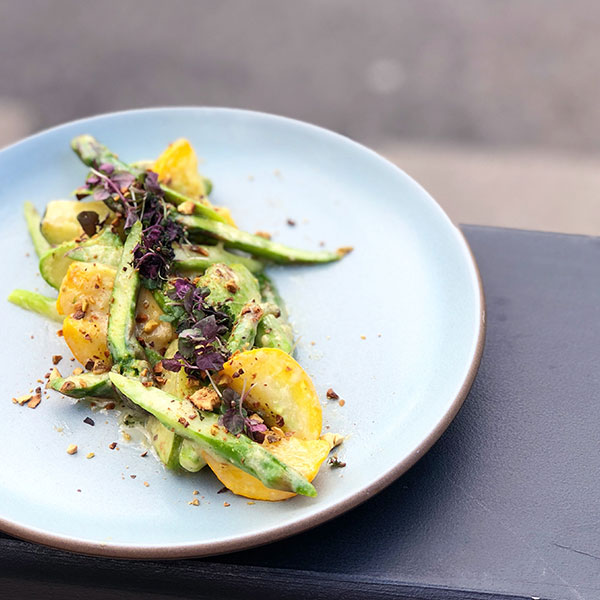 Ji Hye Kim, of Miss Kim in Ann Arbor, Mich., tends to cast vegetables in supporting roles as opposed to the lead on a plate, such as pea shoots tossed with garlic and jalapeño, miso butter-glossed asparagus, and sauteed corn round, which are largely inspired by Korean banchan. These side dishes, kimchi and beyond, are traditionally placed on the table before the main dish arrives. "When we first opened [Miss Kim], we had entrees with three or four banchan, which included kimchi."
"Bitter greens, like watercress or spicy mustard greens, go surprisingly well with slight bitter notes," Kim comments, noting dishes like classic Bibimbap, a rice bowl with greens, pickled vegetables, and topped with a fried egg, or Tteokbokki, sauteed rice cake rounds often served with seasonal vegetables and mushrooms, a dish inspired by 19th-century vegan cuisine served in palaces. For lighter salads, she'll tend to choose lighter beers, like Upland Brewing Co.'s ​​Champagne Velvet and Brew Detroit's Citrus Blonde, allowing guests to really taste the vegetable instead of overpowering it.
"Beer with Korean cuisine functions a bit differently than other foods," explains Kim, describing the philosophy of chimaek (chicken and beer) and pimaek (pizza and beer)—words that define certain food and drink combinations in Korea. Kim believes vegetables and beer should be held in the same regard. "Ya, which means vegetable, is also a prefix for something sexy, so why not make vegetables and beer sexy and call it yamaek?" 
When Miss Kim opened in fall of 2017, "Drinkers just wanted IPAs, but not all IPAs are the same," Kim concedes, "whereas with these [aforementioned] pairings, beer is meant to refresh the palate." She serves many saisons, Pilsners, and light lagers, like Stillwater Artisanal Ale's Extra Dry sake-style saison, and will occasionally offer a porter or stout. She also likes Brew Detroit's Cerveza Delray Oscura, a dark Mexican lager. Kim connects these darker flavors to Korean BBQ, in which most meat is marinated in deeper, dark flavors like soy sauce, garlic, sesame, and scallions, without any acidic element—pickles and kimchi provide that balance, but so does beer.
Recipes
Yellow Banana/Jelly Potato Bisque
By Josh Niernberg, Bin 707, Tacoparty
Yield: Approximately eight 10-ounce servings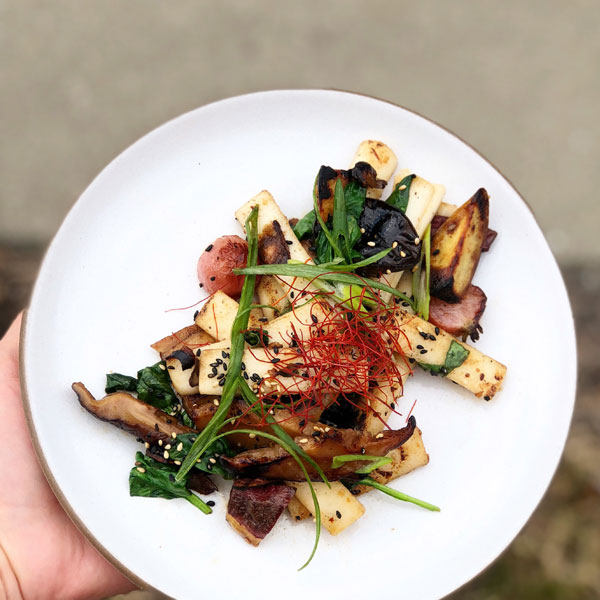 This recipe uses small fingerling-style Colorado-grown yellow potatoes from the San Luis Valley. We've seen them called Yellow Banana and Yellow Jelly potatoes. The key is a very low starch/high sugar content potato.
Ingredients
2 pounds diced yellow potatoes (skin on, stored in water to prevent oxidation until needed)
¼ pound diced yellow onion
¼ pound diced celery
¼ pound diced fennel bulb
4 ounces nduja sausage (we use Elevation brand)
1 ounce minced garlic
1 ounce diced shallot
2 ½ cups white wine (we use High Desert Wine Lab White Light Riesling)
1 quart heavy cream
1 quart milk
¼ cup apple cider vinegar
¼ cup honey
salt & pepper (of choice: white, cayenne, guajillo, or black)
High quality first press olive oil or infused oil such as chive or parsley
Multicolor potato chips
Creme fraiche/sour cream
Fennel fronds
Trout roe (optional)
Directions
Preheat oven to 400 degrees.
In a large oven-safe stockpot sweat the fennel, onion, and celery until translucent. Do not brown.
Add nduja to vegetable mixture and slowly render completely over medium-low heat, stirring constantly.
Deglaze with white wine.
Add potatoes and cover with parchment.
Place pan in oven and roast for approximately 45 to 55 minutes or until potatoes are soft.
Remove from oven and add milk, cream, honey, and vinegar. Stir and let cool slightly.
Working in small batches, blend equal amounts of solids to liquids. You could use a stick blender here; we really like a high-speed blender like a Vitamix to smooth out the bisque as much as possible.
Return the finished bisque to the stock pot and heat to barely a simmer, stirring often over low heat.
Season with salt and pepper and adjust balance with apple cider vinegar/honey as needed.
Note: If bisque is too thick, adjust with either milk or water. Make sure to readjust seasoning after diluting as needed.
To serve:
Garnish the bisque with a dollop of both crema and parsley oil. Make a crescent shape around the crema and oil with lightly crushed multi color potato chips. Gently add trout roe (if using) to the chips. Garnish the chips and roe with fennel fronds.
Tteokbokki, Royale Style
By Ji Hye Kim, Miss Kim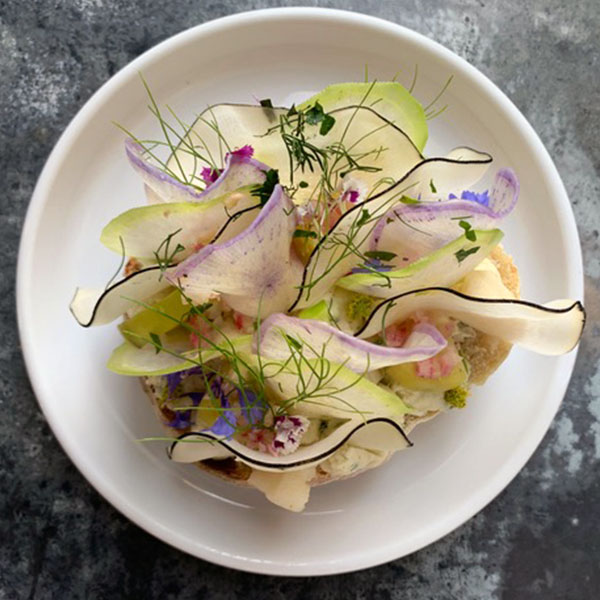 This is a quick and easy vegan version of the sauteed Tteokbokki we serve at Miss Kim. It was inspired by the old palace version of Tteokbokki from the 19th century. The original palace version is very luxurious, full of various vegetables and mushrooms, pine nuts, and beef. We make ours simpler with seasonal vegetables and mushrooms, quickly sauteed in a hot pan to order. We decided to skip the beef because the vegan version was so tasty and we didn't think it needed meat.
For the sauce:
100g Korean soy sauce
40g mirin
25g Gochujang sauce
5g Perilla oil
10g chopped scallions
5g minced garlic
15g brown sugar
Mix all ingredients in a large bowl, making sure all the sugar is dissolved. Keep the finished sauce refrigerated. It will last a few weeks.
For the rice cakes (aka tteokbokki):
2 cups rice cakes shaped specifically for Tteokbokki
4 tablespoons Royale Tteokbokki sauce (above)
½ cup mushrooms (we like shiitake, shimeji, and maitake; cremini or button mushrooms are good too!), sliced into ¼ inch pieces
½ cup vegetable that you have on hand (we love winter squash or carrots), cut into ½-inch pieces
2 tablespoons scallions
Pinch granulated sugar
1.5 tablespoons neutral oil like canola (for sauté)
2 tablespoons neutral oil like canola (for roasting)
Garnish: Chopped scallions and sesame seeds
Directions
Preheat oven to 350 degrees.
In a mixing bowl, toss the mushrooms with 1 tablespoon oil, a pinch of salt, and pepper. Place the mushrooms on a baking sheet and roast in the oven for about 10 to 15 minutes until brown around the edges.
In a mixing bowl, toss the mushrooms with 1 tablespoon oil, a pinch of salt, and pepper.
Place the vegetables on a baking sheet and roast in the oven for 15 minutes or until soft but not falling apart. Let cool.
Place a heavy steel pan wok on the stove over medium-high heat. When the pan is hot, add 1.5 tablespoons of oil and roll it around to cover the pan. Sprinkle the pan with a pinch of sugar evenly.
Add the rice cakes to the hot pan and toss. Leave them for a minute or two until the bottom is golden brown. Toss in the pan and let them cook for another minute or two until most of the rice cakes are toasted golden brown, crispy on the outside but tender when poked.
Add mushrooms and vegetables and toss to mix well with the rice cakes.
Add the sauce to the pan and toss well so everything is well coated with the sauce. Cook for another minute until the rice cakes are nicely toasted brown. Make sure the rice cakes are not burnt and there is no pool of sauce on the bottom of the pan.
Place the cooked rice cakes and the vegetables into a pasta bowl. Garnish with sesame seeds and chopped scallions to serve.
CraftBeer.com is fully dedicated to small and independent U.S. breweries. We are published by the Brewers Association, the not-for-profit trade group dedicated to promoting and protecting America's small and independent craft brewers. Stories and opinions shared on CraftBeer.com do not imply endorsement by or positions taken by the Brewers Association or its members.